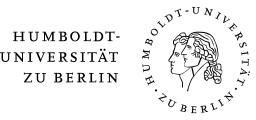 Current information regarding Coronavirus
Questions and Answers
Update: April 3, 2020
The content is updated regularly.
For employees and students
Updates
On this website Humboldt-Universität informs about the current developments of the coronavirus (Corona Virus SARS-CoV-2) outbreak as well as the effects on the teaching, study and work routine at the university.

April 3, 2020
Summer Semester 2020 – Communication of the Senate Chancellery – Higher Education and Research
On April 3, 2020, the Senate Chancellery – Higher Education and Research informed about how the coming summer semester will take place at Berlin's universities. This information is hereby passed on to you. You will find the link to the press release and the paper "Berlin Summer Semester 2020" below.
The resulting consequences and measures for the Humboldt-Universität will be discussed quickly by the responsible departments and divisions with the faculties early next week.
HU President Sabine Kunst commented on the current decision:
"The semester is taking place. I have been working for this from the very beginning and it is good that it is happening and that it has now been decided."
---
April 3, 2020
Vice President for Budget, Personnel, Technology on current challenges during essential-only mode
The federal and state governments have extended the ban on contact for all of us until the end of the Easter holidays. Most of you are be working from home. I know from my own experience how exhausting that is, especially with children. I have the utmost respect for your commitment for our university, which is sometimes done in the evening or early in the morning. I very much hope that this will soon be a thing of the past. On behalf of the university management, I thank you very much that we can count on you.
---
March 31, 2020
Overview: Who does what in essential-only mode?
The Humboldt-Universität is in essential-only mode. All employees had to adapt to the new conditions in a very short time - naturally also the employees in the central administration. As a service, we have compiled a list of the tasks and responsibilities that can currently be performed in the individual departments and the extent to which they can be performed.
---
March 26, 2020
President on current challenges for research
Dear professors, postdocs and doctoral students, researchers and colleagues,
the Corona pandemic has hit us all hard at HU. Like so many employees in international scientific institutions we also hoped that it would not come to this:  Humboldt-Universität is closed and has been in essential-only mode for a week. In order to break the chains of infection, the Berlin universities are also helping to contain the pandemic in this way.
This means a changeover from now to immediately, without much time for preparation. Almost all disciplines that work with data, have experiments in laboratories or conduct empirical research are particularly hard hit. Many experiments had to be abandoned or put on ice at short notice, research trips and surveys cannot take place as planned, even field research on site is hardly possible any more.
---
March 25, 2020
President on the current challenges for teaching
Dear employees, dear students,
we are in the first week of HU's essential-only mode. For many of you it is already the second week in the home office. Whether on site or at home - everyone is sorting themselves anew and this phase is an enormous challenge for all members of the university. I would like to thank you, also on behalf of the entire Presidential Board, very much for your understanding, your patience and your oversized commitment to the implementation of the relevant processes and tasks.
Teaching and research are the core tasks of the university - and the organisation of teaching is currently a particular challenge. Teachers at all Berlin universities are currently asking the same questions: How will the summer semester take place and how will it be evaluated? How do we make teaching digital? How do I organize my next seminar or lecture? Questions that are waiting for answers while children have to be cooked and tears dried, friends and family members need special support, one's own health is not the most stable at the moment, and the conference call keeps collapsing. We are well aware of the difficulties that are piling up and that these many are demanding a lot.
---

March 25, 2020
#WirsindHumboldt: Tell us about your challenges and creative solutions
Every day we all make new experiences in the "corona phase", find solutions and tackle them, because: #WirsindHumboldt.
We would like to let all Humboldtians* participate in this. If you would like to draw the attention of your colleagues, our students or the researchers to interesting experiences, problem solutions or questions from your everyday life, write us a short note at interne-kommunikation@hu-berlin.de or share your observations and experiences using the hashtag #We areHumboldt in the social media. We are curious to know!
Here Humboldtians* are already sharing their experiences and offering solutions:
University sport: Digital offers in preparation
The university sports department is planning to offer an online course programme for students and employees starting next week. It will be a varied programme of fitness workouts, yoga, dance and much more. There are also plans to continue the "Pausenexpress", which is well-known among employees. In addition to the online courses, there will be numerous tips for the home, primarily via social media, such as recipes, short home workouts and active home office.
Interview: Tips for working in the home office
What can we do to keep ourselves sorted in the home office? How do I meet business and private requirements? The HU scientist Prof. Ulrike Lüken does research at the Institute for Psychotherapy and gives tips for the time spent in the home office.
Read the interview on hu-berlin.de
Pragmatic: University didactics conference took place digitally
There has been a lot of positive, enthusiastic feedback on the dhhd2020 - this university didactics conference took place only online because of the corona virus. Wolfgang Deicke, member of the organisation team, reports about the experiences.
Read the article on hu-berlin.de
 
---

March 20, 2020
President on the current situation regarding coronavirus at HU
Dear colleagues, dear students,
from 20 March 2020, 3 PM, operations at Humboldt-Universität zu Berlin as well as at all other Berlin scientific institutions will transition into the so-called essential-only mode.
This was to be expected and in the past days all of us have prepared ourselves as best as possible and with great dedication. This step was and is unavoidable and necessary as it is imperative to disrupt the coronavirus chain of infection.
First and Foremost this measure AIMS at the protection of the health of employees, students and their families. I implore you, to support us in our endeavour and to follow all regulations and advices - also in the interest of the general public.
From today onwards all buildings of the university will remain closed. Only members of staff carrying out core tasks in areas that need to keep operating in order to maintain essential operations have access and work on site.
All other members of the University shall carry out their official duties while working from home as best as possible. We assume that the employees in working in home office take care of their projects and tasks and look after colleagues and students.
Most "normal" processes and procedures in research, teaching and administration will thus come to a standstill.
We will remain in essential-only mode until the state and federal authorities reassess the situation and the universities can return to normal operations.
The university leadership, while exercising its managerial authority and householder's rights and in accordance with the provisions of the pandemic plan, is taking all necessary measures to secure the critical infrastructure and to carry out necessary tasks.
---
March 19, 2020
Presence emergency operation, exams and more
From March 20, 2020, after work, operations at all Berlin scientific institutions and thus also at the Humboldt-Universität will be limited to emergency presence until further notice. The universities have been preparing for this since last week, according to an announcement by the Senate Chancellery. The changeover to the emergency presence mode is aimed at protecting the health of employees, students and their families.
Examinations and theses
Already from Thursday, March 19, 2020, no face-to-face exams will be carried out until further notice. The tests will be carried out in an alternative form and/or at a later date. Instructions for conducting state examinations will be issued and notified by the respective examination offices.
The deadlines for the submission of theses within the framework of Bachelor, Master and Diploma programmes will be suspended from March 12, 2020 until the resumption of regular courses of study (but at least until May 11, 2020), i.e. the deadlines will not continue to run for the time being, so that students who resume regular courses of study, which include the reopening of libraries and PC pools, will be able to take advantage of the full remainder of the submission deadline and will therefore not suffer any disadvantages.
---
Pandemic preparedness
On this website Humboldt-Universität informs about the current developments of the coronavirus (Corona Virus SARS-CoV-2) outbreak as well as the effects on the teaching, study and work routine at the university.

The Task Force for Pandemic Prevention chaired by the university's leadership is supported by  an interdisciplinary group for pandemic prevention in accordance with the operational pandemic contingency plan. The Task Force for Pandemic Prevention decides when to declare certain pandemic stages as well as related measures as dictated by the pandemic contingency plan and when to cancel these if necessary. In addition the university's leadership is in close contact with the other Berlin universities and the crisis management team of the Charité.
---
Questions and Answers
Update: March 16, 2020
The content is updated regularly.
Like other pathogens of respiratory diseases, an infection with the coronavirus can lead to symptoms such as cough, sore or scratchy throat and fever. Some suffer also from diarrhoea. The risk of a severe course with acute respiratory problems and pneumonia is particularly high for people with a weakened immune system.
Persons who have had close contact with a person in whom the novel virus has been detected in the laboratory, or who have been in a risk area, should avoid contact with other people and contact the responsible health authority immediately.
Employees and students should contribute to protecting themselves and others from infectious diseases such as coronavirus by consciously applying simple hygiene measures in everyday life. In the non-medical sector, the following applies: Thorough hand washing with normal soap practically completely inactivates corona viruses. The provision of hand disinfectant at the HU is therefore not a priority.
In principle, the same recommendations apply as for protection against a viral flu. These include in particular the observance of hygiene rules such as regular, thorough hand washing, not shaking hands or hugging, avoiding coughing or sneezing. Rooms should always be well ventilated and handkerchiefs should be disposed of in the rubbish immediately after use. Keeping an appropriate distance of about one to two metres from people with respiratory diseases also protects against transmission of the novel corona virus.
The Robert Koch-Institut and the Foreign Office have listed on their websites all current risk areas and have summarized the important security measures:
The Senate Department for Health, Care and Gender Equality has a hotline to advise residents and guests of Berlin:
+49 30 9028 2828
Daily from 8am to 8pm
Public Insurance Emergency Services can be reached at the following number:
+ 49 116 117
Daily from 8am to 12pm
The Federal Ministry of Health's hotline for the coronavirus:
+49 30 346 465 100
Monday through Thursday from 8am to 6pm, Friday from 8am to 12am
The Berlin Senate Health Department recommends an evaluation if:
You have been in a risk area in the past 14 days,
You have had contact with a person in a risk area,
Or you have had contact with an infected person.