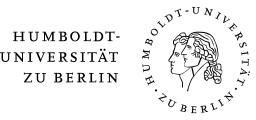 Current information regarding Coronavirus
Questions and Answers
We are currently updating this page and expect the content to be up to date by 13 October 2020, 4 PM. Thank you for your patience!
For employees and students
Updates
On this website Humboldt-Universität informs about the current developments of the coronavirus (Corona Virus SARS-CoV-2) outbreak as well as the effects on the teaching, study and work routine at the university.

June 16, 2020
New adjustements on regulations for restricted operation
With the new SARS-CoV-2 Infection Protection Ordinance, the State of Berlin last week updated its measures to contain the spread of the coronavirus. On this basis, the Humboldt University has decided on a series of regulations that will be valid from Monday, July 6, 2020. 
Read the details here.
June 16, 2020
Berlin universities seek to offer a mix of digital courses and in-presence teaching
Press release of the State Conference of the Rectors and Presidents of the Higher Education Institutions in Berlin (LKRP) and the Senate Chancellery for Higher Education and Research
It is important to the Berlin universities to enable in-presence teaching operations and a return in certain areas to Berlin as an experienceable center of higher education. The universities see themselves as institutions of in-presence learning and they should remain places of physical encounter and discourse. Tried and tested digital teaching and learning formats will continue to be used as far as these contribute to better studying and teaching.

The Berlin universities are aiming to provide a mix of digital courses and in-presence teaching so as to offer students, teachers and staff sufficient certainty regarding planning as well as a dependable framework both now and in the future. It is assumed that a significant number of courses will also be offered digitally in winter semester 2020/2021. The Berlin universities are seeking to offer a mix of digital courses and in-presence classes, as far as the pandemic permits.
June 10, 2020
The HU in restricted mode
Humboldt-Universität has been in restricted operation since June 8, 2020. The Covid-19-related restrictions have been partially adapted to the new situation. In the following you will find answers to important questions. Read more on our blog.
---