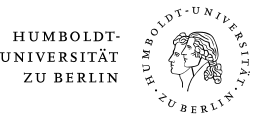 President on continued essential-only mode
by Communications, Marketing and Events (Department VIII)
—
posted on Apr 17, 2020 03:10 PM
—
last modified
Apr 20, 2020 03:40 PM
Dear colleagues
dear students,
on Monday, lectures for the Berlin Summer Semester 2020 will begin at Humboldt-Universität, as well as at the other Berlin universities. This start has been made possible by the dedicated commitment of all Humboldtians - whether in their home office or on site. With the start of the lecture period, new and different challenges await us. The preparations and planning of the last few weeks must prove their worth in everyday life. Many questions are driving the individual: Will the network capacities be sufficient? Will the digital formats work? Will they do justice to our students? Where do we need to make adjustments and do we have sufficient resources to do so?
I have also commented on these questions in a more detailed interview. In an interview with the Vice President for Academic Affairs, you can find out more about the 2020 summer semester.
April 20, 2020 was a fixed date for all of us and was linked to the hope that the strict conditions for contact would be relaxed. This week, however, the Federal Government and the Länder have decided to be very cautious and will only gradually withdraw the strict conditions. In the interest of health protection, the Berlin universities will therefore remain in an essential-only mode for the time being. All measures and service instructions to this regard remain valid. In concrete terms, this means that access to the buildings will continue to be restricted to authorised persons only.
The state is currently working on implementing the resolutions and recommendations of the federal government. A new regulation by the Berlin Senate is expected next week. It will clarify which changes can be made to the current essential-only mode regulations for universities and research institutes. Certain forms of examinations and events requiring attendance should be possible again in the future, and possibly also restricted access to libraries. This will certainly be limited and subject to strict hygiene and protection measures.
All plans will be checked for practicability in the next few days. And on the basis of the decisions we will then tackle possible innovations as well as relaxations at Humboldt-Universität.
Until then: Humboldt-Universität will be closed for attendance. We ask for your understanding and your continued support.
With kind regards
Prof. Dr.-Ing. Dr. Sabine Kunst
President of the Humboldt-Universiät of Berlin
Translated with www.DeepL.com/Translator