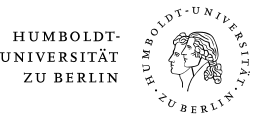 Vice President for Academic Affairs on current challenges regarding the summer semester 2020
by Communications, Marketing and Events (Department VIII)
—
posted on Apr 09, 2020 10:04 AM
—
last modified
Apr 09, 2020 10:04 AM
Dear colleagues,
dear students,
as of last Friday we have much more clarity regarding the summer semester 2020. The state of Berlin has published the paper "Berliner Summer Semester 2020" in coordination with the Berlin universities. In it, the following key decisions have been set for the area of studies and teaching:
The summer semester 2020 will start on April 20 with a digital course offering. This will be a semester that will enable all students, teachers and researchers to continue their studies and tasks as far as possible. This includes that all credit points earned during this semester, will count. At the same time, no one should suffer a disadvantage from the fact that courses or examinations which for good reasons cannot be held digitally have to be held at a later date. For this reason, the coming summer semester counts as a university semester (Hochschulsemester), but is not credited to the standard period of study (Fachstudienzeit) . The universities are also preparing possibilities for online examinations and – as soon as possible again –attendance examinations. The corresponding dates will of course be communicated in good time.
In all this, the universities are committed to the greatest possible goodwill and reliability. To support the universities in the summer semester 2020, the State of Berlin has launched an immediate programme "VirtualCampusBerlin". In addition, the Berlin Centre for Higher Education Teaching will expand its services and open its doors to over 1,000 lecturers throughout Berlin. Other open questions, including those concerning BAföG, health insurance, child benefit and emergency funds for students, are to be clarified at federal level. The Standing Conference of the Ministers of Education and Cultural Affairs has reached an agreement along similar lines to the paper on the "Berlin Summer Semester 2020".
These decisions are of great importance to Humboldt-Universität because they will enable us to adapt and specify our plans and preparations, on which we have been working intensively for weeks. In a joint effort, we have so far succeeded in carrying out essential preliminary work. For example, we have already been able to bring about resolutions on the examination schedule for the 2019/2020 winter semester, the extension of deadlines for the submission of final theses in Bachelor's and Master's programmes, the extension of deadlines for the submission of term papers, the extension of the validity of semester tickets, the continued payment of BAföG benefits and the postponement of the application periods for Master's programmes with restricted admission.
In addition, we initiated early procurement of hardware and software, most of which is now already available to us. In order to coordinate and accompany the transition to digital teaching, a task Task Force Digital Teaching was also established, which, among other things, prepares recommendations and training courses and supports students and teachers both didactically and technically. With the inter-university decisions made since April 3, we can now focus all our efforts on implementing these decisions.
The many unanswered questions that we continue to face already indicate that we will need a lot of staying power to shape the coming summer semester in the best possible way for everyone involved. These include questions about the feasibility of teaching from the home office, the accounting of teaching load, the acquisition of credit points, the use of hardware and software, the possibility of returning to limited attendance mode, and questions of data protection. The conversion of our entire teaching offer in the shortest possible time poses great challenges for us and already ties up almost all our resources. At the same time it is obvious that it will not be enough to answer these and other questions conclusively. Instead, the changeover will require constant checks and adjustments.
However, in view of the great creativity and the courage that can be observed in many cases to find the least possible bureaucratic solutions for all those involved, I am confident that we can overcome this immense challenge together. Irrespective of the question as to the exact extent to which we will actually succeed in overcoming this crisis in the end, the current and future efforts are already worthwhile in the interest of our students, our teaching staff and all colleagues who have already worked tirelessly in recent weeks to make the summer semester a success. All these efforts bring us closer to our major goal of a sustainable and didactically meaningful use of digitisation in teaching, which occupies an important place in the face-to-face teaching at Humboldt-Universität. These experiences (and the results of evaluations that are possible to a given extent) that we are now gathering in the crisis situation will also provide us with valuable impulses for our further discussions in the context of a digitisation strategy.
On behalf of the entire university leadership, it is important to me to thank you all very warmly on this path for your cooperation, commitment and confidence. We are all aware that your achievements for Humboldt-Universität in these personally stressful times are by no means taken for granted. I hope that you will have the opportunity to recharge your batteries over the coming holidays. I therefore wish you all and your families a happy and peaceful Easter.
With best regards
Eva Inés Obergfell