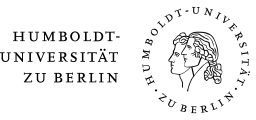 "The more experiments, the better!"
Dr. Gorch Pieken, chief curator for the opening exhibition of the HU at the Humboldt Forum, provides conceptual insights

Team meeting: Frauke Stuhl, Andreas Geißler, Friedrich von Bose,
Gorch Pieken and Katja Widmann (from left to right)
Photo: Matthias Heyde
When the Humboldt Forum opens in the Berlin Palace, the Humboldt Universität zu Berlin (HU) will also be represented there with an exhibition in its own space of around 750 square metres. In dialogue with students, researchers and visitors, the exhibition is intended to provide a contribution to key contemporary issues. Planning insights are offered by Dr Gorch Pieken, the chief curator.
Dr Pieken, what does the opening exhibition seek to address?
It will mainly cover the contemporary political and scientific challenges of the 'Anthropocene' and particularly the relationships between people, the environment and systems of order.
Which partners and disciplines from the university are you and your team working with?
HU's space in the rebuilt Berlin Palace will provide a platform for the whole university. We are working with many disciplines and institutes as well as five clusters of excellence which were approved in 2018 and in which the HU is involved. Cooperation with other universities and scientific institutions is also important to us. It expands the range of topics and allows rare artefacts and documents to be borrowed, while the sharing of expenses offers greater leeway.
Close scientific collaboration with partners beyond Europe is also planned. How will they be involved?
Work at an international level takes place in all aspects of the exhibition. When visitors come to the exhibition, a world offering a change of perspective awaits them. Global phenomena are broken down to a regional level. 'Contestations of the Liberal Script' – a cluster of excellence we are collaborating with – is cooperating with scientific institutions around the world, for example, and is working on the basis of 'double reflexivity'.
What does this mean?
This means, for instance, that the researchers themselves form part of the academy shaped by the West/Western Europe and that they are aware of this fact. Double reflexivity is relevant on at least two levels here: on the thematic level and the level of questions and methods, which is naturally inseparable from the former. This perspective helps both the cluster of excellence and ourselves to critically consider the manner in which knowledge is attained and also to always examine science in the context of global colonial power relationships that persist to this day.
The interview was conducted by Ljiljana Nikolic and Jens Wagner.
Read the complete interview on our website.