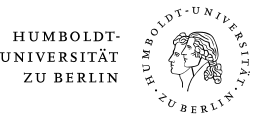 Accreditation
With effect of March 20, Humboldt-Universität, like any other science and research institution of the city of Berlin, changes into the so-called emergency presence mode. All university buildings remain locked. Access is restricted to those employees who are responsible for securing systemic relevant areas. All other members of the university are fulfilling their official duties in the home office as far as possible. All consultation hours (in person or by phone), events and guided tours are cancelled. You can reach us by e-mail, we are working on a phone service. We ask you to assume that answers will be delayed. We hope that we are able to provide you with a full service again soon. Please inform yourself regularly at https://hu.berlin/corona.
Accreditation Service
We only accredit:
documents that are issued by Humboldt-Universität (2 €),
documents written in German that have to be provided at Humboldt-Universität (5 €).
Please note, that we cannot accredit foreign documents or translations of foreign documents. Please contact your embassy or an authorized translator.
For legalisations please contact our Examination Service Group.
Drop-in hours without further notice
Tuesdays 9 to 11 a.m.
Fridays 9 to 11 a.m.
in the Student Service Center.
No service outside these drop-in hours.
Since we have to compare the original(s) and the copy(s) for every authentication carefully, there may be waiting times of over an hour, even if you are already on site at 9 am.
Due to organizational reasons we must limit the number if accreditations to 12 per office hour. Appointments are not possible, please visit a Bürgeramt.
Please bring the original documents and copies (A 4) with you. For copies we make we have to demand 0,50 € per copy. You only can pay cash, no cards.