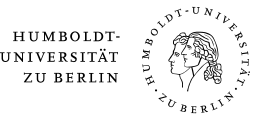 Re-registration
If you would like to continue your studies at the HU Berlin in the summer semester 2020, you need to re-register. You will find the necessary information for your re-registration (i.e. the amount of payment, submission of required documents or the like) by log-in with your online student account at AGNES. https://agnes.hu-berlin.de
Payment periods
For students primarily studying at HU Berlin ("Haupthörer"):
Main period: until February 15, 2020
Secondary period: until February 29, 2020
For students primarily studying elsewhere ("Zweithörer" or "Mehrfachimmatrikulierte") (first main subject or core subject at a different university):
Main period: until March 15, 2020
Secondary period: until March 31, 2020
Please note: If you transfer the fee during the secondary period, you will have to pay a late fee of € 19.94 ("Säumnisgebühr"). To observe the time limit of the main period the money has to be on the bank account of the HU Berlin, viz. the receipt of money has to be on the last day of the main period.
Itemisation of the semester fee for the summer semester 2020
Total: € 315,64. This sum is made up as follows:
Bank account details
Only for students already enrolled.
Recipient:

Humboldt-Universität zu Berlin

IBAN:

DE64 1001 0010 0651 8231 04

SWIFT (BIC)

PBNKDEFFXXX

Bank:

Postbank Berlin

Reference:

Student number, surname, first name

(if you get a letter, the reference can differ. This is no problem as long as you use the here named data).
You also can find a printable itemisation of the fees for the current semester here: summer semester 2020 (PDF)
Further printable itemisation from previous semester can be found with the following link: https://www.hu-berlin.de/de/studium/bewerbung/imma/semesterbeitrage