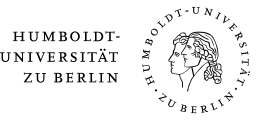 Admission Office for International Students
Please note that the personal consultation hours are cancelled until further notice. We are available for you and your questions about application and admission via the e-mail contact form (https://www.hu-berlin.de/de/studium/bewerbung/zula/formular) as well as during our consultation hours by phone.

Please always include your matriculation number or application number in your inquiry and, if applicable, a phone number for a return call. We will do our best to answer your inquiries as soon as possible.  Further changes and general FAQ regarding the possible services offered by HU Berlin are published on the main information site: https://hu.berlin/corona.

Office location*





Humboldt-Universität zu Berlin
Studierenden-Service-Center (SSC)
Unter den Linden 6
10117 Berlin



* The main building of Humboldt-Universität zu Berlin is not open to general public. The guards and security personnel are performing random checks to confirm people's reasons for being on-site. Access is permitted strictly to members of the university only, unless approval has been granted.

 

Consultation hours*

 

You can reach us by phone

+ 49 2093 70355

Wednesday
12:30 - 02:00 p.m.
Thursday
10:30 - 12:00 a.m.
 

* Due to the Corona pandemic, personal office hours are cancelled until further notice. Please have your application number or matriculation number ready for your call, without which we cannot provide you with any information over the phone.

If you have not yet created an application and need basic information about the application process at Humboldt-Universität zu Berlin, please contact the Initial Counselling for International Applicants. 
If we are in conversation with other students and cannot take your call for this reason, please describe your concern via the contact form and we will be happy to get back to you: https://hu.berlin/kontakt
If you are already enrolled and have questions about the course of your studies (re-registration, de-registration, semester off, etc.), please contact the Enrollment Office.

 

With sending an email you agree that your data is processed by an electronic ticketing system (OTRS). Please note the information: https://otrs.hu-berlin.de/hinweis.html. 

 

Advice for applicants with international appropriate educational qualifications (except programme students)

 


Additional Informations and brochures