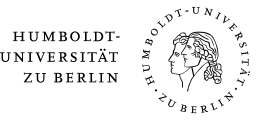 Admission Office for International Students
Office and office hours
Humboldt-Universität zu Berlin
Student Service Center (SSC)
Unter den Linden 6
10117 Berlin
With effect of 3 July 2020 the Humboldt-Universität zu Berlin has changed into the so-called limited presence mode. Therefore all public office hours are cancelled until further notice. You can reach us by e-mail via our online contact form https://hu.berlin/contact.

Please assume that answers can be delayed and that we cannot provide full telephone service. We hope to be available for you again soon. Updates about our possible presence mode will be published via https://hu.berlin/corona.
| Office hours - cancelled until further notice |   |
| --- | --- |
| Monday      1 - 3 p.m. |   |
| Wednesday 1 - 3 p.m. |   |
| Friday        9 - 11 a.m. |   |
Advice for applicants with international appropriate educational qualifications (except programme students)
Applicants (regardless the nationality) who are regular students or have been regular students at Humboldt-Universität at any time in the past (not programme students) apply directly by the HU online application platform.
The application depends on your university entrance qualification. To find out the appropriate way to apply please check out our graphical information.
Degree seeking prospective international students with appropriate educational qualifications are offered initial counselling concerning the application procedure, courses of study, access to courses and requirements in the International Office. 
The application periods for degree courses and for preparatory courses closes: see time schedule.
Information and download (Application and Studies)
Contact
With sending an email you agree that your data is processed by an electronic ticketing system (OTRS). Please note the information: https://otrs.hu-berlin.de/hinweis.html. Please have your matriculation or application number ready.