The EU-Mercosur trade agreement – the flaw at the heart of EU's Green Deal, new research finds
The EU-Mercosur trade agreement fails to protect Indigenous people and the planet - our new paper shines a light on how trade could be used as a leverage point for a brighter future – rather than fueling further destruction.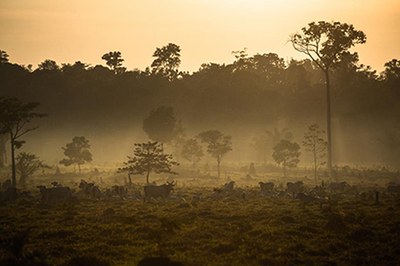 Rainforest gives way to pastures in the Brazilian Amazon in Mato
Grosso. Photo: Thiago Foresti
The EU is considering accepting a controversial trade deal with Brazil, Argentina, Uruguay and Paraguay (the Mercosur bloc), even though Brazil's government is moving in the opposite direction of their commitment to reduce deforestation as part of the Paris Agreement. This deal would ensure cheaper meat, ongoing tariff-free soy, and more ethanol - all critical drivers of deforestation.
A team of 22 international researchers, led by Dr. Laura Kehoe, a scientist at the University of Oxford and the Nature Conservancy, studied the details of the EU-Mercosur trade deal and found that it is in direct contradiction to the goals of the European Green Deal and fails to meet basic sustainability criteria.
Last year, after two decades of negotiations, the EU-Mercosur agreement was provisionally agreed. It comes at a time when Brazil's Indigenous people and the forests they protect are under attack. Last year, murders of Indigenous leaders in the Brazilian Amazon hit the highest level in two decades. People are putting their lives on the line to defend the rainforest, their home, but the crisis is spiralling out of control. Deforestation and violent attacks have accelerated since Bolsonaro took office, with a sobering 516 major fires already detected this summer in Brazil's Amazon - most of which are illegal. After meeting with Greta Thunberg and other youth climate activists, Angela Merkel now has 'considerable doubts' over this contentious deal.
Merkel's doubts are justified. Deforestation releases vast amounts of carbon dioxide - accelerating global climate breakdown. It causes species extinctions and increases the likelihood of future pandemics. To make matters even worse, as the Amazon burns, it nears a tipping point, that if reached could trigger a rapid shift from lush rainforest to a dry savannah - drastically reducing the rainfall on which South America's agriculture depends. "It has become painstakingly clear: when we destroy forests we all suffer." states Kehoe, lead author on the paper.
Despite its green aspirations, the EU is a world leader in importing crops that cause deforestation, resulting in a forest loss that between 1990 and 2008 was the equivalent size of Portugal. Even without a trade deal, every year the EU imports over 10 million tonnes of soy and 200,000 tonnes of beef from the Mercosur bloc. Ongoing imports to the EU from Mercosur are linked to one football pitch of deforestation every three minutes. As Brazil's second largest trading partner, the EU has a vital responsibility to prioritise sustainable trade and uphold its commitments to human rights, environmental protection, and climate change mitigation.
The article, to be published in One Earth next week, outlines a pathway towards sustainability, but it requires swift action from European policy makers. Along with tracing the location of where crops and livestock products originate, a participatory process needs to be introduced that includes Indigenous Peoples, local communities, policy makers and scientists.
Other mechanisms include collective redress (where vulnerable communities can seek legal action), due diligence (where companies are legally responsible for their supply chains), and the suspension of commodities linked to deforestation or human rights abuses. "We want the EU to stop importing products causing chaos abroad and instead become a world leader in sustainable trade," said lead author Dr. Laura Kehoe, an Irish scientist at the University of Oxford who studies how meat consumption can drive deforestation, "if food is grown on illegally deforested land, why isn't it illegal to buy?"
The research also highlights how the economic power of trade could be utilized as an incentive for countries to meet their Paris Agreement commitments: "Importantly, bans on trade in specific goods and services should be introduced until commodities comply with basic legal and sustainability criteria in line with international agreements. This is a particularly powerful policy option given the lack of legal mechanisms to enforce international agreements such as the Paris Agreement."
At a time when deforestation, climate change, and Indigenous rights violations are escalating, urgent action from the European Union is crucial. "Our window of opportunity for avoiding the disastrous outcomes of climate change is closing. As the school strikes and climate protests across Europe have shown, we will no longer accept production practices that cause climate change", says Tiago Reis, a Brazilian PhD candidate at the Université Catholique de Louvain in Belgium who studies how international trade affects land use in producing countries.
The sad irony of it all is that there was never any need for more deforestation in Brazil: research has shown that future agricultural demand could be met from improving existing farm practices and restoring degraded land, without any need for more conversion of natural habitats.
Dr. Kehoe is disheartened by global commitments that fall well below their targets time and time again, "the EU loves to commit to aspirational goals, but the living world is crying out for action not words. We need to fundamentally fix trade to avoid fueling conflict and ecocide abroad. Luckily, we already have the solutions - but will the EU step up to implement them in time?"
Further Information
Press Contact
Dr. Laura Kehoe [English & Spanish]
University of Oxford, UK
Phone: +353 89 604 9212 (BST)
laurajkehoe@gmail.com