Economic sanction exemptions to save the critically endangered Asiatic Cheetah
Researchers call for exemptions to economic embargo in order to save threatened biodiversity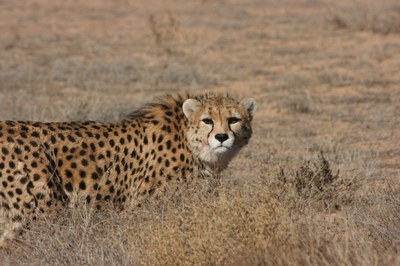 Efforts in breeding the few Asiatic cheetahs in captivity to supplement
their population in the wild have failed so far amid limited expertise and
financial support during the years of sanctions on Iran.
Foto: Arash Ghoddousi
In a letter published in Science magazine, an international team including CIBIO-InBIO researchers Leili Khalatbari, José Carlos Brito and Gholam Hosein Yusefi, highlighted the alarming future of the critically endangered Asiatic cheetah (Acinonyx jubatus venaticus). This mammal has been nearly eradicated from Iran and now less than 50 individuals survive in the wild.
Leili Khalatbari, first author of the paper, says that "conservationists struggle with numerous challenges when protecting threatened biodiversity and international economic sanctions are worsening the situation. They restrict the transfer of expertise and skills and the international financial support, hampering the capacity to conduct conservation actions within the embargoed countries". Leili explains that this is what happens now in Iran and directly affects the Asiatic cheetah´s conservation.
How to avoid the extinction of endangered species under embargo scenarios?
According to the paper, co-authored by researchers from institutions such as ZSL (Zoological Society of London), Humboldt University of Berlin and the IUCN SSC Cat Specialist Group, there should be exemptions for international cooperation and conservation actions to save threatened species. "There should be measures to protect biodiversity, similar to those existing to assure peoples' right to humanitarian relief and to protect globally important cultural heritage sites during conflicts and embargos".
The authors also state that "countries should safeguard their conservation personnel who are the key players on preserving biodiversity. Such measures are of utmost importance in current time in Iran, as without them we may see the first continent-wide extinction of a big cat, the Asiatic cheetah, in modern times".
Efforts in breeding the few Asiatic cheetahs in captivity to supplement their population in the wild have failed so far amid limited expertise and financial support during the years of sanctions on Iran.
Further information
Link to the letter in Science: DOI 10.1126/science.aav8221
Contact
Dr. Arash Ghoddousi
Conservation Biogeography Lab
Geography Department
phone: 2093-5394
arash.ghoddousi@hu-berlin.de