Cooperation between Humboldt-Universität zu Berlin and National University of Singapore
Both universities will closely cooperate in future in terms of research as well as teaching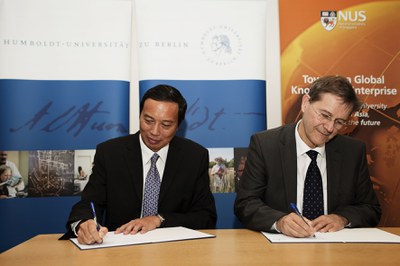 Wee and Olbertz signing the cooperation agreement on 15
December 2014. Photo: Nadine Zilliges
Humboldt-Universität zu Berlin (HU) and the National University of Singapore (NUS) have formed a profile partnership: both universities will closely cooperate in future in terms of research as well as teaching, and their members will be able to enjoy plenty of opportunities for researching, teaching and learning together. This interaction will also extent to the governance level. On 15 December 2014, President of Humboldt-Universität zu Berlin Jan-Hendrik Olbertz and Andrew Wee, NUS Vice President (University and Global Relations) signed the cooperation agreement within the scope of a public event at HU. The profile partnership will initially run for two years.
"Good science – cutting-edge research as well as excellent teaching – is certainly no longer a local phenomenon. We are convinced that networking beyond national borders is the key to solving complex issues both in terms of research as well as of education. The National University of Singapore is the perfect partner for us and we are looking forward to unlocking new common ground for a global knowledge-based society with them," Jan-Hendrik Olbertz, President of HU, commented on this new profile partnership.
The NUS is one of the top universities in Asia. The HU has long-standing links with this institution, including several successful past joint research projects. The Physics, Mathematics, Social Sciences and Economics as well as the Business Administration faculties have already managed to establish close relationships. For instance, NUS was the international partner for several KOSMOS Summer Universities. These past joint activities are now to be extended across all faculties at both universities in Berlin and Singapore. Starting in 2015, each university will make an annual budget of 150,000 euros available for activities within the scope of the profile partnership, initially for two years. Grants will be allocated following a "Call for Joint Projects" to researchers and students. The funds will not only be used to finance bilateral research projects but also to finance student research periods abroad and secondments at governance level. A joint commission will award the grants.
The profile partnership with the NUS is HU's second such partnership. In October 2012, the HU made a similar special cooperation agreement with Princeton University in the USA. More are to follow: the HU President's Office has tasked the International Strategy Office with the identification of four or five international profile partners.
Further information
Website HU International Office
Contact
Dr. David Glowsky
Humboldt-Universität zu Berlin
International Strategy Office
Phone: +49 30 2093-20081
david.glowsky@hu-berlin.de
Susanne Cholodnicki
Humboldt-Universität zu Berlin
Deputy Spokesperson
Phone: +49 30 2093-2332
susanne.cholodnicki.1@hu-berlin.de