Opening of "International Scholar Services" at the HU
New advisory service for international academics
Anyone who has lived and worked abroad knows from their own experiences that it isn't always easy at the beginning: applying for a visa, finding somewhere to live, sorting out insurances, understanding the legal and cultural differences. International PhD students, visiting scholars and research staff spending time at Humboldt-Universität zu Berlin (HU) also face these challenges.
In future, the International Scholar Services (ISS) team will therefore be available from 11 February 2015 onwards to answer all non-academic questions, for example regarding Germany's entry requirements, extending your stay, health insurance and the documents needed for a contract of employment with HU. The International Strategy Office is responsible for the establishment of the new advisory service. "As an internationally renowned university, the Humboldt-Universität has to compete globally for the brightest minds. To make our university even more successful, we must continue to attract top-class researchers, also from abroad. The Humboldt-Universität's international strategy is not least also about improving our international welcome services," explains Jan-Hendrik Olbertz.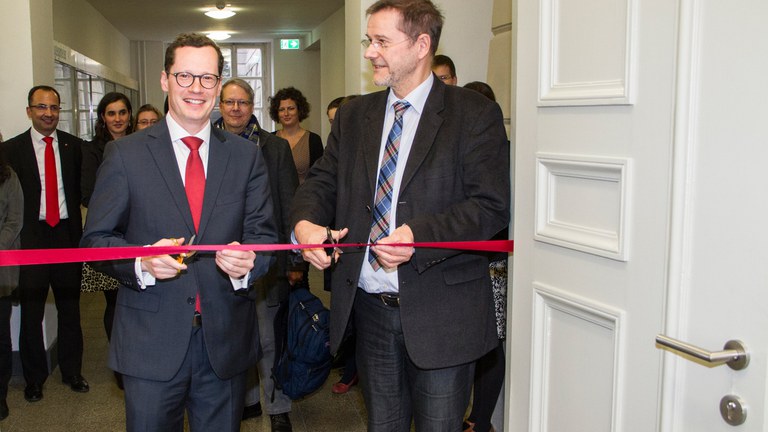 Jan-Hendrik Olbertz, president of Humboldt-Universität Berlin and Sebastian A. Fairhurst, Head of Public Policy Germany / Santander Universidades (from right to left)
Photo: Ralph Bergel
Those seeking advice can simply drop in at the office three days a week: Mondays between 14:00 and 16:00, Wednesdays between 14:00 and 16:00, and Thursdays between 10:00 and 12:00. From 11 February 2015 onwards, appointments outside these hours can also be booked online. The International Scholar Services office is located on the ground floor of the main building, Unter den Linden 6, in room 1069.
The Santander Universidades has kindly provided the funds for the ISS project, initially for a period of three years. The Stiftung Humboldt-Universität foundation also supports the project.
Contact
Marion Gut
Humboldt-Universität zu Berlin
Head of International Scholar Services
Phone: +49 (0)30 2093-20094
marion.gut@hu-berlin.de
Press Office
Ibou Diop
Humboldt-Universität zu Berlin
Phone: +49 (0)30 2093-2345
ibou.diop.1@hu-berlin.de