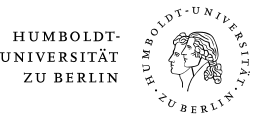 Humboldt-Universität zu Berlin and Elsevier Sign IT Professorship Agreement to Support Berlin's Digital Agenda
New information management professorship to drive digitization projects in Germany's innovation capital
Elsevier CEO Ron Mobed (l.) and Prof. Dr. Peter A.
Frensch, Vice President for Research at Humboldt-
Universität zu Berlin, signing the contract.
Figure: Thorsten-Stephan Beck
Humboldt-Universität zu Berlin (HU) and information analytics company Elsevier today signed an agreement to launch an information management professorship at the university as part of the Einstein Center Digital Future. This builds on Humboldt's existing collaboration with Elsevier in the HEADT Centre and supports Berlin's position as a technology hub and a place for top researchers and academic excellence.
"Humboldt-Universität zu Berlin and Elsevier share an interest in improving society through technology and innovation", said Sabine Kunst, President of Humboldt-Universität zu Berlin. "Collaborating with Elsevier on the HEADT Center and the Digital Berlin professorship supports our role as a prominent digital center in Berlin and in Germany."
The professorship will be associated with the Humboldt-Elsevier Advanced Data & Text (HEADT) Centre and with the Berlin School of Library and Information Science. The HEADT Centre brings together experts from multiple disciplines within Humboldt-Universität, Elsevier and elsewhere to address issues such as research integrity (including reproducibility) and efficiencies in database structures and text mining. As part of the Einstein Center Digital Future the professorship will be closely connected to all relevant players doing research in the field of digitalization in Berlin.
"Elsevier and Humboldt both stand for high-quality research and trust in the academic process," said Elsevier CEO Ron Mobed. "We are building together on this by using Elsevier's data analytics capabilities to advance scientific fraud detection and developing new big data algorithms to find textually similar documents. The new information management professorship and our combined expertise in content and technology make us effective partners in boosting the importance of integrity as well as the use of text and data in research."
The information management professorship supported by Elsevier is one of 50 professorships forming the Einstein Center Digital Future that have been coordinated and co-sponsored by the Einstein Foundation as part of the Digital Berlin project. The program provides support for recruiting top international researchers at Berlin universities.
About Humboldt-Universität zu Berlin
In June 2012 Humboldt-Universität was one of eleven German universities to be chosen as a "University of Excellence". It was successful in all three funding lines in the third round of the Excellence Initiative of the German federal and state governments and awarded for its institutional strategy "Educating Enquiring Minds: Individuality – Openness – Guidance". In an international comparison, Humboldt-Universität ranks among the top ten of German universities. Scholars here research socially relevant topics and challenges for the future and communicate these with the public. Humboldt-Universität zu Berlin continues the Humboldt tradition of the unity of research and teaching. Its aim is to promote young talents and to influence society and economy outside the university framework.
About Elsevier
Elsevier is a global information analytics company that helps institutions and professionals progress science, advance healthcare and improve performance for the benefit of humanity. Elsevier provides digital solutions and tools in the areas of strategic research management, R&D performance, clinical decision support, and professional education; including ScienceDirect, Scopus, ClinicalKey and Sherpath. Elsevier publishes over 2,500 digitized journals, including The Lancet and Cell, more than 35,000 e-book titles and many iconic reference works, including Gray's Anatomy. Elsevier is part of RELX Group, a world-leading provider of information and analytics to professionals and business customers, in a wide range of industries.
Further Information
Media contact
Elsevier: Harald Boersma
Director Corporate Communications
Phone: +31 485 27 36
H.boersma@elsevier.com
Humboldt-Universität zu Berlin: Melanie Rügenhagen
Manager HEADT Centre
+49 (0)30 4004 24 74
ruegenhagen@headt.eu