A Researcher Fascinated by `the Normal´
The Summer Special 2019 focuses on 'Living together': We introduce and interview researchers and try to get very different perspectives, e.g. from sociology, ethnology, economics and natural science. In episode 1 we portray the cultural anthropologist Silvy Chakkalakal.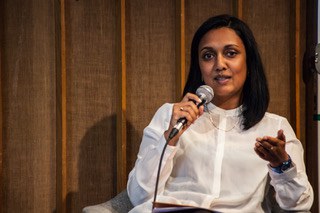 Prof. Dr. Silvy Chakkalakal. Photo: © Laura Fiorio/HKW
Silvy Chakkalakal likes to look at the 'normal', those things that fundamentally determine a society, but remain unquestioned by it. One example of this is time. 'I presume that time is not simply there', says the junior professor at the Institute for European Ethnology and the Centre for Transdisciplinary Gender Studies of Humboldt-Universität zu Berlin. Museums, for instance, produce a temporal order through the selection and description of certain objects. 'Curators engage in practices of time, which they inscribe onto material objects – and we have to reflect on these practices.'
A first generation academic
Scrutinizing things that seem to be self-evident, that is one of the reasons that Chakkalakal 'immediately fell in love with this field. And this has remained the case up to the present day.' In Tübingen she studied historical and cultural anthropology and comparative literature. While studying overseas in London, she was asked if she had considered writing a doctoral dissertation. Chakkalakal, whose parents had come from South India and who grew up in a working-class environment, was paying for her own studies and 'first had to get used to this idea'.
For her doctoral dissertation at the Institute for European Ethnology of Humboldt-Universität zu Berlin, funded with a scholarship from the Hans Böckler Foundation, Chakkalakal again selected an ostensibly everyday topic that was also part of popular culture: picture books. She investigated a book series from the 18th century that explained the world with the help of images from scientific treatises, with botanical and zoological drawings. The book, she explains, was written for children, although it is very different than contemporary picture books. 'I am interested in how knowledge is formed. And especially with pictures, meaning is produced very differently than with other media.' She was fascinated, she says, by the interdisciplinary approach to an issue, by the connection of media studies and art history with anthropology.
Focus on everything!
While still working on her Ph.D., she applied for a research position in Basel. The project focused on American cultural anthropologist Margaret Mead. 'Mead and other cultural relativists took an aesthetic view of the "cultural other" – one can of course totally criticize that,' says Chakkalakal. Mead, she continues, also understood anthropology as an artistic practice. On the backside of her ethnographic notes she wrote down her own poems. 'For Mead, text was never sufficient for what she experienced. She focused on everything that makes up life, including emotions, poetry, art.'
Chakkalakal seems to identify with this idea: only text, only one discipline, only one direction on the temporal axis, these are not enough for her to describe the world. For this reason she works between the disciplines as a professor of European ethnology and of gender studies; for this reason she focuses not only on the present and the past, but also on the future.
Conference in Delhi
Future and past also play a role in her two current projects. In September Chakkalakal is leading – along with her colleague, cultural geographer Julie Ren – three panels at a conference in Delhi on the topic of the city. Scholars from around the world will present their projects on how mega-cities such as Mexico City, Bangalore and São Paulo think about and anticipate the future.
Together with colleagues at Princeton University she will also investigate the Princeton University archives over the next two years. Princeton, a strategic partner of Humboldt-Universität, is currently examining its own history of slavery. Chakkalakal wants to read the archival knowledge against the grain and 'find formats that do not have such one-dimensional temporality. We want to look at the archives from a queer, transnational perspective.' How is knowledge formed, how are orders of knowledge established, how is the 'cultural other' archived? These are the questions that she wants to explore in the project.
Science is not unpolitical
Education, gender, the future – these are three issues that pervade Chakkalakal's research. Fundamental here is always a postcolonial perspective that takes into account questions of gender. 'Gender studies and anthropology are political fields: both question and scrutinize which social orders are established, which histories are narrated and which are not, and what the costs of this are for certain groups.'
As political fields, she argues, European ethnology and gender studies are more directly affected by political moods. Last year Hungarian Prime Minister Viktor Orbán banned gender studies at Hungarian universities and here in Germany gender studies has also been increasingly subject to hostility in recent years. This makes international cooperation all the more important. 'In these times it is not bad to line up together politically and substantively.' As a precise observer of everyday life, however, she also says the following about the attacks on science: 'Other population groups have been familiar with these attacks for a long time. They are based on social orders that are also articulated, for example, in the educational system in the form of unequal treatment and are repeatedly produced anew.' European ethnology illuminates these mechanisms. Silvy Chakkalakal does this by placing our normality under a magnifying glass.
Anne-Sophie Schmidt