Humboldt Helps
With your donation, you can help support 30 students at the HU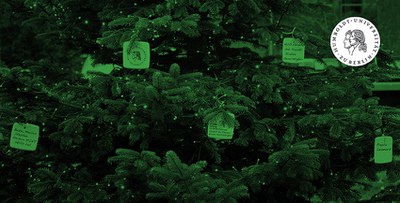 The donation tree is decorated with a thank you tag to the sponsors
every time funding is acquired for a new scholarship.
Photo: M. Ibold/H. Zappe
The coronavirus pandemic is also presenting many students at the Humboldt-Universität zu Berlin (HU) with financial challenges. A number of them have had their study schedule thrown into disarray, for some, the duration of their studies is being extended, and, for others, the part-time jobs that help to finance their studies have disappeared. In order to be able to support an additional 30 HU students with scholarships from the Deutschlandstipendium (Germany Scholarship) programme, the fundraising campaign "Humboldt Helps" is now being launched at the Humboldt. Starting from the 2021 summer semester, this aims to help enable more students to focus better on the contents of their studies.
Students who come from non-academic family backgrounds are currently finding it particularly difficult to continue their studies. The Deutschlandstipendium takes circumstances such as these into consideration. The selection process takes in account not only good performance, but also commitment to social issues, special social or personal circumstances, and family background.
"The Deutschlandstipendium – which we call the Humboldt Scholarship at our institution – supports almost 100 students at our university every year. This year and next, financial assistance is more necessary than ever," says HU President, Prof. Dr-Ing. Dr Sabine Kunst. "We are therefore asking for your support."
The Humboldt-Universität needs 1,800 euros for one scholarship. The Federal Government contributes the same amount. A student receives a scholarship of 3,600 euros for two semesters. The HU would also like to encourage smaller donations through so-called crowdfunding. Donations of this kind mean that a large number of people can financially support and enable a project by means of moderate amounts that are reasonable for them. Every euro donated helps make a scholarship possible.
The 2021/22 Humboldt Scholarships will be awarded for the 2021 summer semester. Applications can be made as of 15th December 2020.
Donation tree makes the results visible
Interested parties can follow the "Humboldt Helps" campaign on social media channels and in the inner courtyard of the main HU building. There is a donation tree there, which is decorated with a thank you tag to the sponsors every time funding is acquired for a new scholarship.
Donors, please contact
Maria Wirbatz
Department of Communications, Marketing
and Events at the HU
Further Informations
Learn more about the campaign