Olympic debut for Minerva Hase and Nolan Seegert
HU students Minerva Hase and Nolan Seegert have punched their ticket to the Winter Olympics in Beijing and will be competing in the final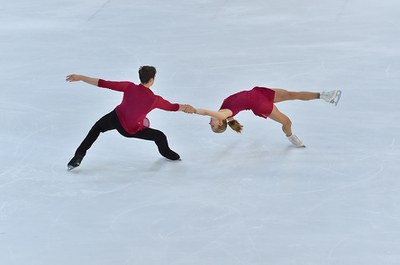 Nolan Seegert and Minerva Hase, Photo: Luca Tonegutti
HU students Minerva Hase and Nolan Seegert have punched their ticket to the Olympic Games, which began in Beijing on 4 February. The figure skating pair are the reigning German champions and will be competing at the Olympics for the first time.
Back on the ice after nine days in quarantine
It was unclear for a long time whether the two athletes would be able to compete, because after his arrival in Beijing, Nolan Seegert tested positive for the corona virus. Seegert had to remain in quarantine for the time being.  Therefore, the pair could not compete in the team competition on 4 February as planned. After nine days of corona quarantine, Seegert was able to resume training and the Hu students will now compete in the pairs competition.
The figure skating pair reached 14th place in the short programme and have thus qualified for the free skating final on 19 February.
About the athletes
The 23-year-old psychology student Minerva Hase has been enrolled at Humboldt-Universität since the 2020/21 winter semester, Nolan Seegert is studying sports science and biology for a teaching degree and has already been on HU's top sports team since 2013.
The two have been skating together as a figure skating pair since 2014. For many years, the Olympic base in Berlin-Hohenschönhausen was the sporting home of the two, and since this season they have been training with their Russian coach Dmitri Savin, mainly in Sochi. Currently, the figure skating pair are the reigning German champions (with a personal best) and finished third at the Grand Prix Cup of Russia 2019 and fifth at the European Championships 2020.
Criticism of the Olympics in China
The Olympic Games in China have been criticised because of the human rights violations there. Numerous countries have therefore announced their diplomatic boycotts or the absences of government delegations in advance.
Further information
Studies and top-class sport at HU (in german)