New Packaging for Old Theses
The university's unique collection of theses is being conserved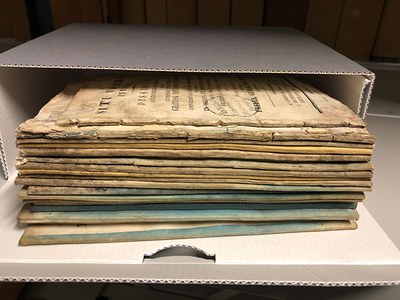 Archival boxes: a simple, but effective measure.
Photo: Anna Kluge
There is a treasure on the shelves of the archives of University Library in Berlin Adlershof: the dissertations, school programmes and habilitation theses of University Library are stored here, over one million theses from the 17th century to 1998. The collection is considered the most significant of its kind in Germany.
The value of this collection, however, is not immediately evident from its current condition: most of the rather slender volumes are packaged in old boxes, which are often already broken and crumble on the ground and the shelves when taken out. The dissertations are exposed to dust and mechanical damage, are bent and creased. And the old cardboard is acidic, which means that it accelerates the aging of the paper. Around 30,000 of the dissertations – primarily historical holdings from Berlin – are now being packed in new, special archival boxes.
Many dissertations from the period after the Second World War are rarities
Berlin University began collecting theses from both foreign and domestic universities already in 1817. The growth of this collection was supported by the work of the 'Akademischer Tauschverein' and especially by the Legal Deposit Law of 1838, which required that all Prussian school and university theses be submitted. During the 20th century, publication exchange continued to be practiced in Germany, while international exchange suffered significantly due to political events. After 1949, University Library became the 'central collection point of dissertations and habilitation theses' in the GDR. Universities in the Federal Republic of German also submitted their theses.
In this way, more than 1.2 million university theses were collected. For all disciplines and especially for issues concerning the history of science, this collection is an important resource and is used internationally. The preservation of the originals is all the more important since the rare copies of the 20th century are frequently unavailable in digital form due to copyright issues. Because few obligatory copies had to be submitted in the GDR, reproductions were often made on spirit duplicators, also known as Ditto or Banda machines. These copies are rare today. The many dissertations from the period after the Second World War are also especially rare, as obligatory publication was abolished.
More than 6000 boxes in Adlershof
The State Ministry for Culture and the Media promotes the conservation of archival materials and manuscripts in libraries and other commemorative institutions with several million Euros annually. This programme is providing support for the six-month project at HU; half of the costs are being covered with internal funding.
A certified archival packaging is recognised as a simple and effective means of conservation. Since October 2019, shelf meter after shelf meter of dissertations has been freed of acidic cardboard and repackaged in Adlershof, more than 6000 boxes overall. In the future, the shelves will indeed look plain, but as orderly as these holdings warrant.
Only a small part of the collection, however, could be included in the current project – there will be more work to be done for years to come.
Contact
Dr. Yong-Mi Rauch
Head of the Historical Collections Department
Humboldt-Universität zu Berlin