HU is taking the initiative in the Dialogue with Society and Culture
In 2020 Humboldt-Universität is taking important steps to impart knowledge comprehensively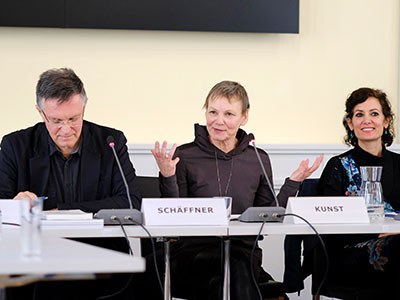 Wolfgang Schäffner, Sabine Kunst and Naika Foroutan (v.l.) at the
Press Conference at Campus Nord of HU. Photo: Matthias Heyde
For Humboldt-Universität zu Berlin (HU), the year 2020 will be marked by an intensive opening towards society. Under the title 'OPEN HUMBOLDT', the oldest university in Berlin and one of the most internationally renowned universities in Germany will promote the dialogue between university and society as well as between university and culture.
In order to visibly attain this goal in the coming years, HU will engage as a university in the centre of Berlin in concrete projects. These include established, well-known projects as well as new projects that will be developed at differing speeds over the next years. In this way, HU will establish in this decade new standards and platforms for the communication of science and society.
The dialogue between science, society and culture is more necessary than ever. Sound and repeatedly tested knowledge as well as clear and irrefutable facts do not apparently lead to important decision-making in politics and society. This is particularly evident with issues of climate change and natural resources.
For this reason, HU will invigorate the dialogue with society through major projects. Due to its history and its geographical location in the centre of the federal capital with its four campuses, HU is predestined for this as hardly another German university. In this process, the brothers Alexander and Wilhelm von Humboldt will be inspirations and important reference points. In founding of the former Berlin University, the brothers created a site of scientific debate and institutional objectives.
Through OPEN HUMBOLDT, Humboldt-Universität takes up the Humboldt brothers' aspirations of making the university into a catalyst for reform and internationally into a model university. During Alexander von Humboldt Year 2019, HU showed around 7000 visitors how this can be achieved.
In 2020 HU will focus on the question: What role can science play for society – and society for science?
OPEN HUMBOLDT is based on the enormous range of accomplishments that scientists of the university have achieved over the past three decades. This year, new high points will build on these previous accomplishments:
Opening the Humboldt Laboratory in the Humboldt Forum
Starting the joint science campus with the Museum für Naturkunde with the 'Berlin School of Public Engagement and Open Science'
Theatre of the Anthropocene
Train Station of the Sciences
Cooperation and participation in the plans for the Palais am Festungsgraben
Online Science Portal for Sustainability
New formats of science communication with the partners of the Berlin University Alliance
 
The goals of OPEN HUMBOLDT towards an effective dialogue with society are the following:
OPEN HUMBOLDT seeks to make science in the centre of the city more public
OPEN HUMBOLDT is a multilateral process
OPEN HUMBOLDT prepares for a science of the future
OPEN HUMBOLDT conceives students and researchers as a community of teachers and learners
OPEN HUMBOLDT is situated within political contexts and in the midst of society
Further Information
Humboldt Laboratory
Science Campus for Nature and Society
Theatre of the Anthropocene
Further information
Theater des Anthropozän (in English)
Contact
Hans-Christoph Keller
Press Spokesperson of the Humboldt-Universität zu Berlin
Phone: + 49(0)30 2093-2946
hans-christoph.keller@hu-berlin.de