How do human behaviors impact wildlife movements?
Researchers call for incorporation of human behaviors in conservation planning to ensure sustainable landscapes for wildlife and people.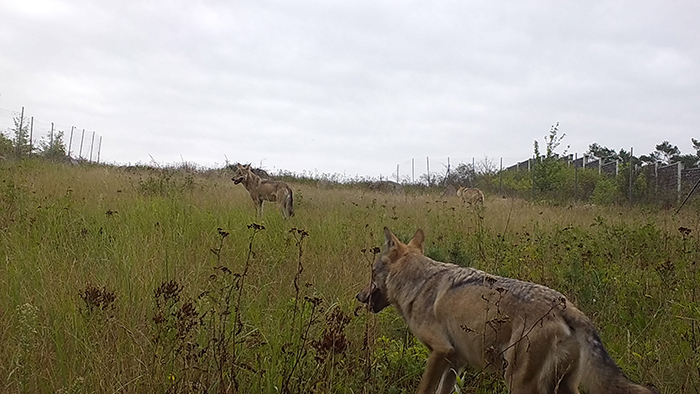 A pack of wolves crossing a 'green bridge' built to connect highly fragmented
habitats of Germany. Photo: Conservation Biogeography, Humboldt-Universität
In a Perspective piece published today in One Earth journal, an international team including Humboldt-Universität zu Berlin researchers Arash Ghoddousi and Tobias Kuemmerle introduce the term 'anthropogenic resistance' to better recognize and estimate the impacts of human behaviors on wildlife movements. Human land uses and roads are increasingly fragmenting wildlife habitats around the world, making connectivity planning as a topical issue in conservation and sustainability sciences. So far, connectivity planning, such as designation of 'green bridges', has focused on mapping landscape features like forested areas or highways. However, human behaviors can also severely impact wildlife movements.
According to the paper coauthored by researchers from Texas A&M University, University of Goettingen, Ohio State University and Boise State University, a range of human psychological and socioeconomic factors can impact species' movement resulting in 'anthropogenic resistance'. For example, some species may use human land uses such as croplands for both shelter and food but reduce their presence in these areas during the hunting season. Or in some parts of the world, cultural and religious beliefs could result in tolerance of large carnivores such as tigers and lions despite substantial livestock losses and threats to humans.
The authors claim these nuanced differences in human behaviors highly determine where wildlife may move and persist in a landscape, hence require consideration of 'anthropogenic resistance' in connectivity planning. This interdisciplinary team of researchers also highlight how social and natural scientists could collaborate to measure and include 'anthropogenic resistance' in connectivity planning ensuring functionality of corridors for wildlife and people.
Publication
Anthropogenic resistance: accounting for human behavior in wildlife connectivity planning, One Earth Volume 4, Issue 1, 22 January 2021, Pages 39-48,
Contacts
Dr. Arash Ghoddousi
Geography Department, Biogeograpy
Humboldt-Universität zu Berlin
arash.ghoddousi@geo.hu-berlin.de
Prof. Dr. Tobias Kümmerle
Geography Department, Biogeograpy
Humboldt-Universität zu Berlin