Illuminating the brain
Warren Alpert Foundation Prize honors Peter Hegemann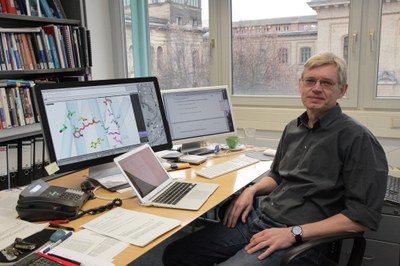 Prof. Dr. Peter Hegemann. Foto: Prusowski/HU
The 2019 Warren Alpert Foundation Prize has been awarded to four scientists for pioneering work in the field of optogenetics, a revolutionary technique that uses light and genetic modification to control the activity of cells in the brain.
Optogenetics holds promise not only for unraveling some of the brain's more confounding mysteries, including decision-making and behavior, but also for elucidating and manipulating circuits that underlie serious neurologic and neuropsychiatric disorders as well as for testing and monitoring response to treatment.
Prof. Dr. Peter Hegemann from Humboldt-Universität zu Berlin is a pioneer in the field of optogenetics:  With his study of light-sensitive molecular channels in single-cell organisms—the key proteins that make optogenetic manipulation possible— he discovered along with Karl Deisseroth the key principles of light-sensitive channel structure and function.
The Warren Alpert Foundation, in association with Harvard Medical School, honors scientists whose work has improved the understanding, prevention, treatment or cure of human disease.
The honorees will share a $500,000 prize and will be recognized at a daylong symposium on Oct. 3 at Harvard Medical School.
The 2019 Warren Alpert Foundation Prize recipients are:
• Edward Boyden, the Y. Eva Tan Professor in Neurotechnology at MIT
• Karl Deisseroth, the D.H. Chen Professor of Bioengineering and of Psychiatry and Behavioral Sciences at Stanford University
• Peter Hegemann, the Hertie professor of Neuroscience
• Gero Miesenböck, the Waynflete Professor of Physiology and director of the Centre for Neural Circuits and Behaviour at the University of Oxford in the United Kingdom.
Further information
Prof. Dr. Peter Hegemann's Website