Single parenthood – not a family type, but an episode in a person's life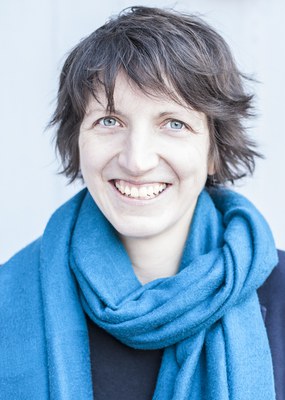 The sociologist Hannah Zagel. Photo: Lena Grass
The negative social image of single parents prevalent in Great Britain confounded sociologist Hannah Zagel. 'They are stigmatized as a group that exploits the welfare state and even fraudulently obtains benefits.' This is how the social scientist at Humboldt-Universität zu Berlin (HU) describes the normative discussion that prompted her in 2009 to begin a doctoral dissertation at the University of Edinburgh on the career paths of single parents. She herself spent part of her childhood with a single parent.
Her dissertation was based on the idea that being a single parent is not a family type, but rather an episode in a person's life and thus a status that can arise, but can also disappear.
When do people become single parents? How long do they remain single parents? When do they leave behind this phase of life? What effects do these dynamics have in terms of income, poverty risk and employment behaviour? And what consequences should we draw from this for social and family policy?
Science that persists and initiates changes
These are questions that have continued to fascinate the thirty-seven-year-old scholar. It did not initially appear that she would become a scientist. Originally Hannah Zagel wanted to pursue cultural studies. While waiting for a university place she was trained as an advertising consultant, but realized she was not interested in working in advertising or cultural marketing. At university she discovered her love for the social sciences. Today the mother of two is pleased with the decision: 'I work in science because I want do something that persists and contributes to a larger body of knowledge.'
After completing her doctoral dissertation in 2013, she continued her scientific career as a research assistant, initially at the University of Bremen and the University of Hamburg. She was subsequently a visiting scholar at Yale University, the German Institute of Economic Research (DWI) in Berlin and the University of Stockholm. Since 2016 Hannah Zagel has been a postdoctoral researcher in the field of microsociology at the HU and an associated member of the Research Group Demography and Inequality at the WZB Berlin Social Science Center.
Single parents are becoming an increasingly heterogeneous group
Around 20 per cent of German households with children are single parents. It is a way of life that is growing rapidly and becoming increasingly heterogeneous. Hannah Zagel's central concern is a cross-country investigation of this phenomenon. Together with Sabine Hübgen of the WZB Berlin Social Science Center and Rense Nieuwenhuis of the Swedish Institute for Social Research (SOFI) in Stockholm, she is analysing the changing poverty risk of single mothers in Germany, Sweden and Great Britain from the 1990s to the present.
In another research project with Rense Nieuwenhuis, she is examining the question of how housing costs affect the total budget of single parents in a Europe-wide comparison. Here the two researchers have distinguished whether social housing is integrated into the country-specific rental system or whether it constitutes an independent sector within a dual system separate from the otherwise predominant principle of residential property. Hannah Zagel summarizes the results as follows: 'Integrated housing markets often guarantee single parents a higher quality of living conditions, whereas the dual system correlates with reduced housing costs.'
In addition to the family-policy dimensions of the issue of 'single parenthood', Hannah Zagel's research also focuses on the institutions themselves. 'Classical family policy research is concerned with measures and laws for when a child has already been born. But what services do the individual countries provide for families during the phase of family formation, for example, with the issues of assisted reproductive medicine or care for pregnant women?' the sociologist asks.
A comparative symposium on family policy at the Humboldt-Universität
Hannah Zagel would like to find answers to this question together with sociologists, political scientists, legal scholars, demographers and cultural scholars at a symposium on family policy issues at the HU on 29 November 2019. She is organizing this event together with British professor of sociology and social policy Mary Daly of Oxford University. In individual panels, experts from Germany, Greece, Sweden, France and the Netherlands will discuss family policy challenges in order to develop provisions for future parents and unborn children. The symposium is open to interested participants.
Author: Susanne Geu
Further Information
Website of the Institut for Social Sciences