Start of the Application Phase at the HU for the Winter Semester 2019/20
The application portal of the HU is online. Open Door Days and counselling for prospective students, parents, and teachers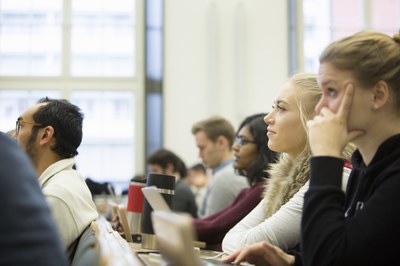 Students at a lecture of the Faculty of Economics and
Business Administration at the Humboldt-Universität.
(Photo: HU/M. Heyde)
At the moment prospective students can select from and apply to 25 restricted master's programmes (NC). The application deadline is 31 May 2019.
Immediately thereafter – beginning on 1 June 2019 – applications to more than 120 restricted and unrestricted bachelor's and master's programmes as well as further offerings, including law programmes, can be submitted.
In addition, the HU has a wide range of teacher training programmes. A complete overview of the entire course catalogue can be found here.
The application portal takes prospective students through the entire application and admission process. If you have questions about when you can submit an application to the HU, the following link provides orientation (PDF, in german).
Students and prospective students can learn about deadlines for application and submissions as well as registration deadlines. For anyone who is still thinking about which programme is the best fit for them, the HU provides support with the ESRA programme (in german) at student orientation.
Students, prospective students, parents, and teachers are cordially invited to the Open Door Days (in german) on 12 and 13 June 2019, for an opportunity to experience the HU live.
Further information
Contact
Academic Affairs
Phone: 030 2093-70270