Fires scorching the unique Chiquitano forest of Bolivia
International research team urges in a letter to Science magazine the new Bolivian government to revise the laws encouraging environmental disasters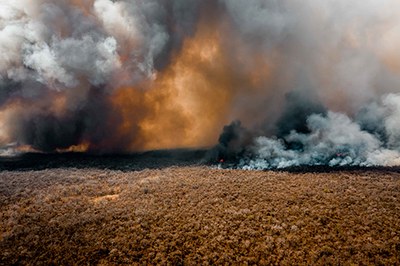 Fires in Chiquitano forest of Bolivia, Photo: Daniel Coimbra / FCBC
Fires lit by people have burned over 1.4 million hectares of the Chiquitano dry forest since July. In a new letter to the journal Science, Scientists from Humboldt-Universität zu Berlin (HU) and other German and Bolivian research institutions describe the importance of this dramatic events for biodiversity and ecosystem services. They recommend the new Bolivian government to revise the laws encouraging such environmental disasters.
The Chiquitano dry forest is the world's best preserved tropical dry forest and is now only found in Bolivia. Bridging the Amazon rainforest with the Gran Chaco and Pantanal, this forest is highly biodiverse, with thousands of animal and plant species - many only existing there and many others still not yet discovered. Alfredo Romero-Muñoz, a Bolivian doctoral researcher at Humboldt-Universität who leads the initiative, says that unfortunately, the fires went out of control and burnt 12 percent of this extraordinary forest since July. Co-author Martin Jansen from Senckenberg Research Institute, who recently described a new frog species in the area, adds: "we are losing a unique wilderness whose rich biodiversity we are only beginning to understand".
These unprecedented fires came a month after the Morales government in Bolivia legalized the cutting and controlled burning of forest to expand agriculture. "Such laws are part of broader plans in Bolivia to quadruple agricultural land into forested areas by 2025", Romero-Muñoz says.
Bolivia is one of the most biodiverse countries on earth, ranking ninth in forest extent but fifth in deforestation. Current trends in agricultural expansion are very worrying for Bolivia's globally important biodiversity and for people, who depend on the services nature provides. "If these trends continue, Bolivia could lose almost all of its forests by 2050, together with immeasurable biodiversity loss, including emblematic animals like jaguars and tapirs. This jeopardizes the livelihoods of millions of people, including food security and access to freshwater in one of the countries most vulnerable to climate change", Romero-Muñoz says.
Across Bolivia's Chiquitano, Amazon and Chaco forests and Savannas, fires this year scorched 5.3 million hectares – an area larger than Costa Rica. This is a huge loss that went under-reported in the international media compared to the fires in the Brazilian Amazon and in Australia, but they are at least as significant, says Romero-Muñoz.
The authors recommend the new Bolivian government to revise current agricultural and economic policies, particularly the laws encouraging agricultural expansion. They also recommend effectively protecting remaining forests and the essential ecosystem services they provide to people.
Publication
"Fires scorching Bolivia's Chiquitano forest", Science 29 Nov 2019: Vol. 366, Issue 6469, pp. 1082
Alfredo Romero-Muñoz, Martin Jansen, Angela M. Nuñez, Marisol Toledo, Roberto Vides Almonacid, Tobias Kuemmerle.
DOI: 10.1126/science.aaz7264
Further informations
Link to the letter at Science Magazine
Contact
Alfredo Romero-Muñoz
Doctoral researcher at the Biogeography lab
Humboldt-Universität zu Berlin
Phone: +49 (0)30 2093-6806
alfredo.romero@geo.hu-berlin.de