ERC Synergy Grants approved
Projects by Michael Brecht and Annette Schmiedchen of HU are among them
The European Research Council (ERC) awards ERC Synergy Grants to support teams of two to four scientists working on projects that lead to substantial advancements at the frontiers or research. The maximum grant per project is 10 million euros over a period of up to 6 years. Close to 27 grants are awarded to projects throughout all of Europe. Two researchers at HU working on separate projects are among the recipients: Prof. Dr. Michael Brecht of the Institute for Biology and PD Dr. Annette Schmiedchen of the Institute of Asian and African Studies.
On the occasion of the results announcement, Carlos Moedas, European Commissioner for Research, Science and Innovation, said: "Synergy is a quintessential European concept: making the total effect greater than the sum of individual elements. The purpose of this EU funding is to group together top scientific talents and bring out their best. It equips researchers on their quest to put European science on the global stage and make discoveries that will ultimately improve Europeans lives."
BrainPlay with Michael Brecht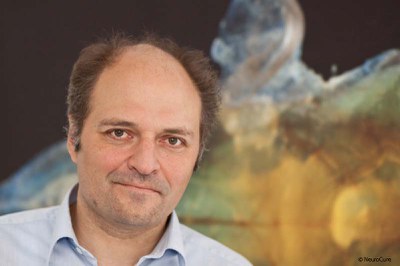 Prof. Dr. Michael Brecht
Photo: Neurocure
In their project BrainPlay, the interdisciplinary project team comprising Michael Brecht, Daphne Bavelier, Robert Gütig and Dietmar Schmitz is exploring the question about what goes on in the brain during play. The researchers are particularly interested in how play contributes to learning processes in the brain. With a focus on learning through play, the large-scale study investigates learning mechanisms from the cellular level up to cognitive performance. The goal is to understand at the neurobiological processes of learning and how learning through play changes our brains.
Michael Brecht is a neurobiologist who conducts research on the relationship between brain activity and behaviour. His team is developing methods for measuring intra- and extracellular activity and for stimulating individual nerve cells. Over the past several years, his research group has focussed on social contact and play behaviours.
Team members:
Michael Brecht (HU)
Daphne Bavelier (Uni Genf)
Robert Gütig (Charité)
Dietmar Schmitz (Charité)
The video shows young rats playing with their mother. But why are the young ones so much more playful?
DHARMA with Annette Schmiedchen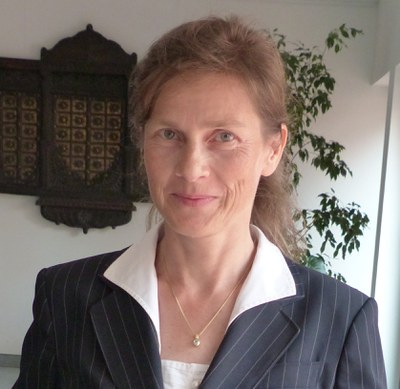 Dr. Annette Schmiedchen
Photo: privat
The DHARMA project connects various media from the early period of Hindu development that to date have only been addressed in individual disciplines and along regional sites. By merging archaeological finds and historic texts, the project hopes to reconstruct how Hinduism developed as both a religion and a social model.
Comparisons of findings and knowledge from Hindu centres in South India, Bengal and Southeast Asia facilitate the reconstruction of a complex development dynamic and the supplement of pieces of the puzzle lacking from other sites.
Annette Schmiedchen is an indologist specialising in pre-modern South Asian history and epigraphy. Over the past several years, her research has looked at the western and central Indian corpus of inscriptional data and investigates religious patronage and its legitimising role in Buddhist, Hindu and Jain contexts. She also collaborates in the cross-culturally oriented ERC project on foundations in medieval societies based at HU.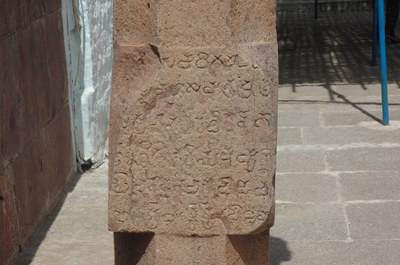 Column in Alampur, South India
Photo: Valérie Gillet
Team Members:
Emmanuel Francis (CNRS, Paris)
Arlo Griffiths (ECOLE FRANCAISE D'EXTREME-ORIENT, Paris)
Annette Schmiedchen (HU)
Further information
Contact
Dr. Annette Schmiedchen
Institute of Asian and African Studies
Tel.: 030 2093-66036
annette.schmiedchen@hu-berlin.de
Prof. Dr. Michael Brecht
Institute for Biology
Bernstein Centre for Computational Neuroscience Berlin
Tel.: 030 2093-6770
michael.brecht@bccn-berlin.de