Start of the Semester at HU with more than 36,000 Students
Humboldt-Universität welcomes more than 8,000 first semester students for the academic year of 2019/2020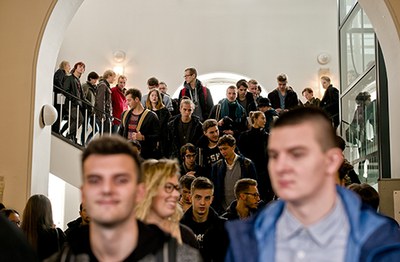 Students at Humboldt-Universität zu Berlin
Photo: Matthias Heyde
The Matriculation Celebration will kick off the new academic year on Monday, 14 October, 2019 at 6 pm in the Hörsaalzelt on Campus Nord. The Humboldt-Universität zu Berlin (HU) invites all first semester students, teaching staff and students to participate. All incoming students will be surprised with a small welcoming present. Due to a dies academicus, there will be no classes on this day.
The students will be welcomed by the Vice President for Academic Affairs Professor Eva Inés Obergfell as well as by the HU Sustainability Office and the Student Representation. The ceremonial address will be held by science journalist Ranga Yogeshwar. His subject will be 'New Possibilities in Becoming Open'. The will be accompanied musicall by the Humboldt Big Band.
As usual the information markets will take place as well - at the Berlin-Adlershof campus in the foyer of the Erwin Schrödinger Centre on 14 October 2019 and in Berlin Mitte in the foyer of the Hauptgebäude on 15 October 2019, both at 10 am. In Adlershof, various HU facilities such as the Career Centre, Sport and Recreation and HU student initiatives will present their offerings. In Mitte, the focus will be on the cultural life of the city, and students can become acquainted with the programmes of theatres, concert halls and other cultural institutions.
Over 36,000 students enrolled at HU
Overall there are 36,220 students enrolled at Humboldt-Universität in the winter semester 2019/20 (as of 27 September 2019) and 8,291 students begin their first semester at HU in the academic year 2019/20, of whom 6,118 are international students.
In the winter semester 2018/19, there were 35,475 students overall matriculated at the HU, and 5,610 of them were international students.
The five most popular courses at the basic level are law (jurisprudence), psychology, English, primary-school teacher training and business administration.
Event
Matriculation Celebration
Monday, 14 October 2019, 6 pm
Hörsaalzelt on Campus Nord, Philippstraße 13, 10115 Berlin
The event will also be broadcast via livestream on HU's Youtube channel.