100,000 visitors at the Humboldt Lab
HU President Peter Frensch welcomed student from Berlin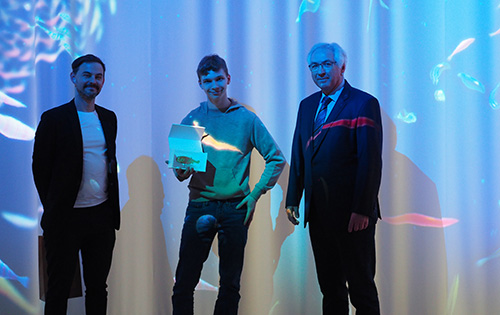 Prof. Dr. Peter Frensch, acting HU President, welcomes
Lars, Liedloff, the 100,000th visitor to the Humboldt Lab.
Photo: Mariana Moreira
To celebrate the 100,000th visitor, the acting president of Humboldt-Universität, Prof. Dr. Peter Frensch, presented a golden boxfish in the exhibition room of the Humboldt Lab on September 12, 2022. 
The lucky 100,000 visitor was 19-year-old Lars Liedloff from Berlin-Karow. He is a student at the Private Vocational School for Social Pedagogy (D&B Dienstleistung & Bildung) in Berlin-Marzahn and was visiting the Humboldt Lab with his class. He was delighted to receive a voucher for a visit to a restaurant in the Humboldt Forum and the golden suitcase fish.
A lot has happened in one year at the Humboldt Lab
About a year ago, the Humboldt Lab of Humboldt-Universität zu Berlin opened with the inaugural exhibition "After Nature" at the Humboldt Forum. A lot has happened since then: 100,000 visitors have visited the interactive science exhibition. Of these, 2,500 have taken part in one of 200 educational offerings - such as drop-ins, guided tours for school classes or families. In addition, 2,000 people took part in around 50 events held during the year, ranging from discussions on current research topics, dance, theater and spoken word to a student work show and a live broadcast to the Arctic.
Even in its first year, the exhibition changed – in the spirit of a laboratory – with new objects and research stations as well as the voices and perspectives of young people, students and doctoral students who contributed their own exhibition texts. Research was also carried out in the Humboldt Lab: various projects investigated, for example, how visitors move around the exhibition space or how they are influenced by the decisions of others. Teaching was not neglected either: In the seminar room behind the exhibition, seminars were held on a regular basis, in which students of education and rehabilitation sciences, for example, developed and implemented new teaching formats for primary school pupils and pupils with a focus on intellectual development.
Further Information