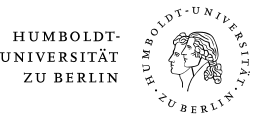 Notes on master's degree applications
The following information will be useful if you are applying for an MA degree programme at Humboldt-Universität zu Berlin. Version: 1. November 2019
Admission requirements
The basic requirement for application is an initial professional degree in a relevant subject area, generally a bachelor's degree. The entry requirements for each master's course can be found in the course catalogue and the ZSP-HU admission regulations (PDF in German).
Admissions and selection procedure
During the application periods, you apply online via uni-assist or directly at Humboldt (for deadlines, see academic dates and deadlines).
In addition to your final grade and waiting time, the selection procedure may also take other selection criteria into account. You can find the selection criteria in the ZSP-HU admission regulations (PDF in German).
Application without a bachelor's degree
If you are in the final phase of your bachelor's degree programme, under certain conditions you can still begin your master's course while your degree is pending. If your degree certificate will not be available before the end of the application period, you must be no more than 30 credit points away from graduation (e.g. at least 150 credit points for a degree amounting to a total of 180 credit points). Please note the application periods.
If your transcript does not meet this requirement (i. e. credits you achieved until now plus total number of credits that are required for a bachelor plus preliminary grade average), you will require a certificate from your Examination Board stating that you have no more than 30 CP/ECTS left to complete.
Examinations taken after the deadline for applications and before the beginning of the new semester, as well as any re-sits, will have no negative impact on the admissions procedure.
You must prove a successful completion of the bachelor's course by means of a bachelor's degree certificate by the end of the semester for the master's course, which you have applied and been enrolled for.
For example:
Application and enrolment for a master's course for the winter semester 2019/20 (1 October 2019)
→ Submission of the proof of the completed bachelor's course until 31 March 2020 in the proper form.
If you cannot prove the completion of the bachelor's course, the admission to start your master's course will expire.