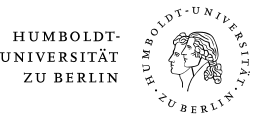 Student Services
At the Student Services department you can reach our experts for application and admission. Contact the enrollment-office if you have administrative questions about your student status, fees or have to hand in request forms (e.g. maternity leave, leave of absence).
Please note that the personal consultation hours are cancelled until further notice. We are available for you and your questions via the e-mail contact form (https://hu.berlin/contact) as well as during our consultation hours by phone.

Please always include your matriculation number or application number in your inquiry and, if applicable, a phone number for a return call. We will do our best to answer your inquiries as soon as possible.  Further changes and general FAQ regarding the possible services offered by HU Berlin are published on the main information site: https://hu.berlin/corona

Office Location*



Humboldt-Universität zu Berlin
Studierenden-Service-Center (SSC)
Unter den Linden 6
10117 Berlin


* The main building of Humboldt-Universität zu Berlin is not open to general public. The guards and security personnel are performing random checks to confirm people's reasons for being on-site. Access is permitted strictly to members of the university only, unless approval has been granted.

 

Send your enrollment documents preferably by mail.
If you want to drop off your enrollment documents personally by the deadline, please use either the blue mailbox of the Student Service Center or the gray mailboxes at the mailroom (in front of room 1030) during the opening hours of the main building (Unter den Linden 6, Mo-Fr: 8.00-19.00h). Please note that you are only allowed to enter the building with a mouth-nose protection.
Outside the opening hours of the main building, you can use the night mailbox of the Humboldt University.


Contact and Consultation Hours
 

General Information
 


Further information on application and study programme
 

If you are interested in studying at the Humboldt-Universität zu Berlin, you will find detailed information in the portal for prospective students.
You find more answers here on the admission and application process and on the course catalogue.
Contact
 

Die Compass-Hotline der HU | The Compass Hotline
Telefon: 030 2093-70333 | Phone: +4930 2093-70333
E-Mail: Kontaktformular | Contact form

With sending an email you agree that your data is processed by an electronic ticketing system (OTRS). Please note the information: https://otrs.hu-berlin.de/hinweis.html

Please have your matriculation or application number ready.

When contacting facilities of the study department, personal data are partly collected and processed. The processing of personal data, such as the name, address, e-mail address, or telephone number shall always be in line with the General Data Protection Regulation (EU-DSGVO) and in accordance with the Berlin Data Protection Act (BlnDSG). Further information on this, your rights and options can be found at https://www.hu-berlin.de/de/hu/impressum/datenschutzerklaerung