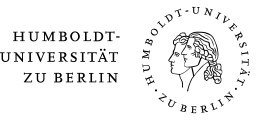 Guided Tours
Discover the three campuses of Humboldt-Universität zu Berlin Campus Mitte, Campus Nord, Campus Adlershof and the main building, situated on the avenue Unter den Linden.
With effect of March 20, Humboldt-Universität, like any other science and research institution of the city of Berlin, changes into the so-called emergency presence mode. All university buildings remain locked. Access is restricted to those employees who are responsible for securing systemic relevant areas. All other members of the university are fulfilling their official duties in the home office as far as possible. All consultation hours (in person or by phone), events and guided tours are cancelled. You can reach us by e-mail, we are working on a phone service. We ask you to assume that answers will be delayed. We hope that we are able to provide you with a full service again soon. Please inform yourself regularly at https://hu.berlin/corona.
Visit the talent pool of famous scholars, researchers and scientists: The main building and Campus Mitte in the heart of the city. Take part in a guided tour and stroll along the paths of more than 200 years university history. We offer tours for pupils and schools.
The tours are organized by assistants of Compass. We are looking forward to your visit.