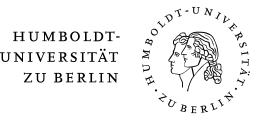 Request for a study information tour
Please fill in the form, the signed fields are mandatory.
Humboldt-Universität zu Berlin has been in restricted operation since June 8, 2020. The Covid-19-related restrictions have been partially adapted to the new situation. You can reach us by telephone and e-mail, and you can also use our online consultation hours. We can't offer guided tours until further notice. Further information on restricted operation can be found on the Corona website.
Thank you for your interest in a tour. Please contact us at the latest four weeks before you want to visit us. If we can fulfill your desire you will get a confirmation with details.