Start of the Semester: The Right Counselling for Students and Prospective Students
Humboldt-Universität zu Berlin offers comprehensive services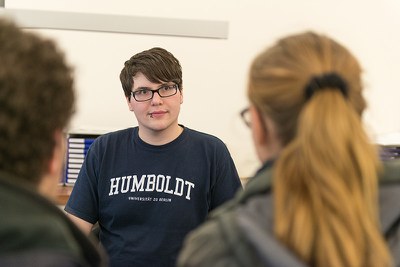 Counselling at the Student Service Centre of
Humboldt-Universität zu Berlin – now with new services
Photo: Andreas. Süß/HU
Humboldt-Universität zu Berlin (HU) is one of the most popular German universities – among German students as well as international students.
Many students and prospective students have questions: What should I study? Why should I study at all? How will I get everything done? How will I earn my degree? Should I continue to study or not?
In difficult and confusing situations, student counselling at the HU also provides support with a comprehensive counselling programme.
Beginning this semester, one new offering is the "Jour Fixe of Student Counselling" (in german). The first Thursday of every month will address different issues that students face, such as changing courses of study, test anxiety and re-enrolling.
ESRA : "Decide? Search. Reflect. Choose!" (in german) is also new. With this counselling programme the HU helps its students to choose a course of study.
Everyone who is still unable to decide what to study is invited to the Decision-Making Training (in german) on 25 April 2019. Places are still available.
Anyone who would like to test out of the university air can come to the Days of the Open Door (in german) on 12 and 13 June 2019.
Anyone who would like to try out the counselling services is welcome to come to the Long Night of Counselling (in german) for students and prospective students on 12 June 2019.
For an overview of all the counselling services (in german) at the HU:
On the following issues:
Uncertain if a course of study is the right one? General Student Counselling
Doubts about studying: Perspective Counselling
Studying without an Abitur? Crossover
Illnesses and disabilities: Counselling for Students with Disabilities
Interested in becoming a teacher: Service for Teacher-Training Students (and of course prospective students as well!)
Foreign students at the HU: Initial Consultation for International Students
Educational problems and crises: Psychological Counselling (Office)
Studying with children: Family Office
Financing your studies: StudierendenWerk
Contact
General Student Counselling
Phone: 030 2093-70270