Start of the Summer Semester at HU
From the campus to university sports – an orientation guide for first semester students at Humboldt-Universität zu Berlin
On 18 April, the summer semester lectures for 2016 began at Humboldt-Universität zu Berlin (HU). For many first semester students, everything about the University is new. We'd like to help new students get their bearings by providing them with the most important information.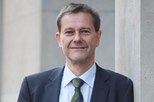 "Dear students,
Welcome to Humboldt-Universität zu Berlin (HU). I would like to extend you a warm welcome as the President of our University, an office I have held since October 2010, and which I shall be handing over to my successor, Prof. Dr Sabine Kunst, on 11 May.
You are now beginning your studies as a first semester student, or might be switching to our University for a specific period. The Humboldt-Universität zu Berlin has a wealth of tradition, is renowned nationally and internationally, and enjoys an excellent reputation, due both to its history as well as its outstanding performance in research and teaching.  
Since 2012, HU has been one of the eleven Excellence Universities in Germany. It is a great opportunity for you to study here. I hope very much that you will enjoy learning how to work scientifically at our campuses in Adlershof, Mitte and Nord.
I wish you all the best with your start into academic life, and much success in your studies!"

Prof. Dr. Jan-Hendrik Olbertz
President of Humboldt-Universität zu Berlin
Helpful tips for first semester students
Compass
Looking for a contact person or support? Compass is the name of the central point of contact for all enquiries about studying at HU. The checklist for first semester students is also very helpful.
International Students
There is an English-language advice and information service at HU for international students.
Lectures
The lecture period begins on 18 April. The current university calendar offers an orientation guide for all seminars and events.
Campus
Where do I have to go, where can I find what? Two basic questions for new students at the start of the lecture period.
Sports and Events
If you are looking for a way to balance your studies by exercising, you will find just the right athletic programmes at HU. A good opportunity to get to know the campus and other students is on 30 April at the Humboldt-Meile and the subsequent Spring Festival in Adlershof. In addition, our events calendar provides information on everything taking place at the University – like the HU party on 29 April to celebrate the start of the semester.
Canteen and Library
The canteen and the library are also important points of contact for first semester students. The library also offers a helpful online tutorial for freshmen.
Social Media
The Humboldt-Universität zu Berlin is also active on social media. Follow us on Twitter and Facebook and find out what's new at the HU.