Start of the Semester 2016/2017
Welcome to the Humboldt-Universität zu Berlin! Since everything always seems new and confusing at first, we have made a list of the most important things for first-year students to know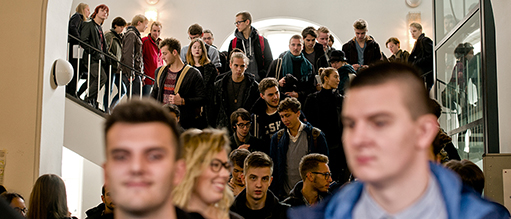 Figure: Matthias Heyde
Arrive
First of all, we recommend going to the central orientation meetings (in german). These meetings will explain all about the first few days and your future at the HU.
Getting organized can sometimes be a challenge in the first semester, so our back-to-school checklist (in german) gives you plenty of useful information to help get your studies off to a successful start
You can also find some helpful tips in our "Uni-Compass" brochure, which is available from the student service centre starting in the end of September 2016
Student counselling is the right place to go for any questions about your studies – ranging from general questions about psychological support to the decision to discontinue your course.
Get your bearings
Everything is exciting, new, and interesting! But how does everything work here at the Humboldt-Universität? The institutes of Humboldt-Universität are grouped into three main campuses. The HU has several dining halls and cafés. Studentenwerk Berlin has made a list of each of the locations.
There are also eleven libraries and a university archive. Plenty of space for reading and learning!
And one final special tip: Whoever wishes to experience the HU Berlin interactively can do so on the move with our Campus Tour Guide for smartphones, or at home on the computer with our virtual campus tour.
Experience
The HU is the oldest university in Berlin, and is one of the most prestigious universities in the world. And it has a lot more to offer than just studying!
There's no easier way to be active than with university sports: We offer a wide programme that includes everything from classic sports to the latest fashionable sporting trends.
Any time that there's a party you can't miss, the student councils will let you know, either by posting a notice on the faculty bulletin boards or on the website. If you don't want to be left out, watch these spaces! The events calendar on the HU homepage also regularly includes exciting events from science and research.
Movie buffs will find their own personal HU cinema on the Mitte and Adlershof campuses. The student-run initiatives "Filmzeit an der HU Berlin" and "Hörsaalkino" show films and host discussion platforms.
Our HUMBOLDT newspaper is worth reading, available to read on paper or online. Alternatively, you can write something yourself and submit to the HU Berlin student newspaper (in german), which is incidentally the oldest student newspaper in Germany: .
Finally, something to listen to: The Berlin campus radio Couch FM works together with the HU, and also offers you the opportunity to contribute.
Last but not least: The Humboldt-Universität is active in many social networks. You can follow us here: