University Senate of HU welcomes the establishment of a public cooperation for the Berlin University Alliance and the Charité
Shortly before the start of the parliamentary debate in the Berlin House of Representatives the Senate of the HU unanimously voted in favour of establishing a public corporation (KöR).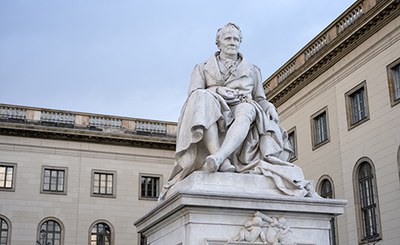 Photo: Matthias Heyde
With this public corporation, the Berlin University Alliance (BUA) is to be given an important instrument for efficiently addressing major research issues of the 21st century across all institutes. Following a lively debate in the University Senate of the HU on the establishment of this cooperation platform, the senators passed a resolution which, in addition to the draft bill, addresses the objections of the university and will be submitted to the Berlin House of Representatives.
HU President Sabine Kunst emphasized:"The most important tasks of the platform are to create permeability between the institutions. We want to jointly use existing infrastructures for research as partners and operate new structures together. This enables a completely new quality of cooperation in Berlin as a science location and was a very important part of the joint proposal in the Excellence Strategy Competition. The aim is to minimize the administrative effort for researchers".
This decisive advantage for effective and smooth research was also emphasized by the Dean of the Faculty of Mathematics and Natural Sciences, Elmar Kulke: "This is extremely important for us. Only with such a platform can we remain internationally competitive".
It is also important to the members of the University Senate of the HU to expand the opportunities for co-determination, which they considered not yet sufficiently considered in the current draft law. In order to strengthen the competencies of the University Senates of the universities as well as the Faculty Council of the Charité, the composition of the Scientific Council of the future cooperation platform is to be expanded in order to be able to critically advise and support the Board of Directors of the BUA. The expansion is recommended as follows: one dean of each of the four partner institutions as well as one member of each status group of each of the senates or the faculty council of the four partners. In addition, there should be a joint representation of the women's representatives, the staff representatives and the representatives of severely disabled persons.
Ludwig Kronthaler, Vice President of Budget, Personnel, Technology at HU, also emphasized that the cooperation platform is to become an important administrative and technical instrument of the BUA, which will raise scientific cooperation in Berlin to a new level. This new model of cooperation, said President Kunst, was of great interest both nationally and internationally. It could become an example for other large research alliances. On July 21, 2020, the Senate Chancellery passed the bill on the KöR, on the basis of which questions from the perspective of members of the HU Senate were once again discussed.
Further information
Translated with www.DeepL.com/Translator