Vernissage: Eco-connectivity ArtSci Exhibitions
Art Science Exhibits in partnership with Humboldt-Universität zu Berlin's Thaer-Institut & Campus Nord & Science Branch Libraries presents its Eco-connectivity public exhibition series.

With support from the Faculty of Life Sciences and the Museum für Naturkunde Berlin, international artists working within a wide range of eco thematics - climate change, water systems, agriculture, modification, pollution solutions - are showcased from November 1st in this fact based exhibition series.
Artists from Argentina, Austria, Belgium, Brazil, Canada, China, France, Germany, Hong Kong, India, Ireland, Japan, Mexico, New Zealand, Portugal, Sweden, the UK and the USA are featured in three locations: The Grand Hall of Humboldt-Universität zu Berlin's Thaer-Institut and the Campus Nord Branch and Science Branch Libraries. The main exhibit in Thaersaal includes a flowerhouse designed by Gorenflos Architekten, video screenings, artist lectures, and a panel discussion by an international architects.
This year, an Annex Gallery at Campus Nord Branch Library is presented by the Bio Lab of the School of Visual Arts New York, and a new Satellite Exhibition is located at the Erwin-Schrödinger-Zentrum Science Branch Library, Berlin-Adlershof, on site of one of Europe's largest science parks.
Set in motion by international artist mp Warming, Art Science Exhibits brings together artists and scientists to greater the sphere of ArtSci conversations. With focus on overcoming the imminent challenges of climate change, pollution, and overpopulation, these exhibits showcase a multitude of compassionate, collective approaches for all system changes that are necessary for the future of nature kind.

Full program:
www.artscienceexhibits.com/program.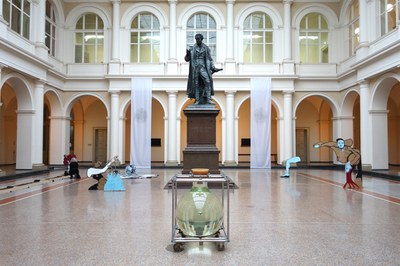 Photo: Matthias Heyde
Vernissage:
Thursday, 1 November 2018
4.00 - 7.00 pm
Thaer-Institut für Agrar- und Gartenbauwissenschaften
Invalidenstr. 42
10099 Berlin
 
Panel discussion:

"Designed environments: climate change, adaptability, and our nomadic futures"
Friday, 2 November 2018
5.00 - 7.00pm
Thaer-Institut für Agrar- und Gartenbauwissenschaften
Invalidenstr. 42
10099 Berlin
Language: English
 
Exhibitions:

Main Exhibition "Eco-connectivity"
1 November 2018 - 23 November 2018
Thaer-Institut für Agrar- und Gartenbauwissenschaften
Weekdays: 8.00am - 8.00pm
Invalidenstr. 42
10099 Berlin
 
Annex Galleries
1 November 2018 - 1 January 2019
Campus Nord Branch Library
Monday - Friday: 9.00am - 8.00pm
Saturday: 11.00am – 7.00pm
Hessischestrasse 1-2
10115 Berlin
 
Satellite Exhibition
1 November 2018 - 1 January 2019
Erwin Schrödinger Center Science Branch Library
Monday - Friday: 8.45am - 8.00pm
Saturday: 11:00am - 6:00pm
Rudower Chaussee 26
12489 Berlin