Information for students with disabilities
Contents
Accessibility and directions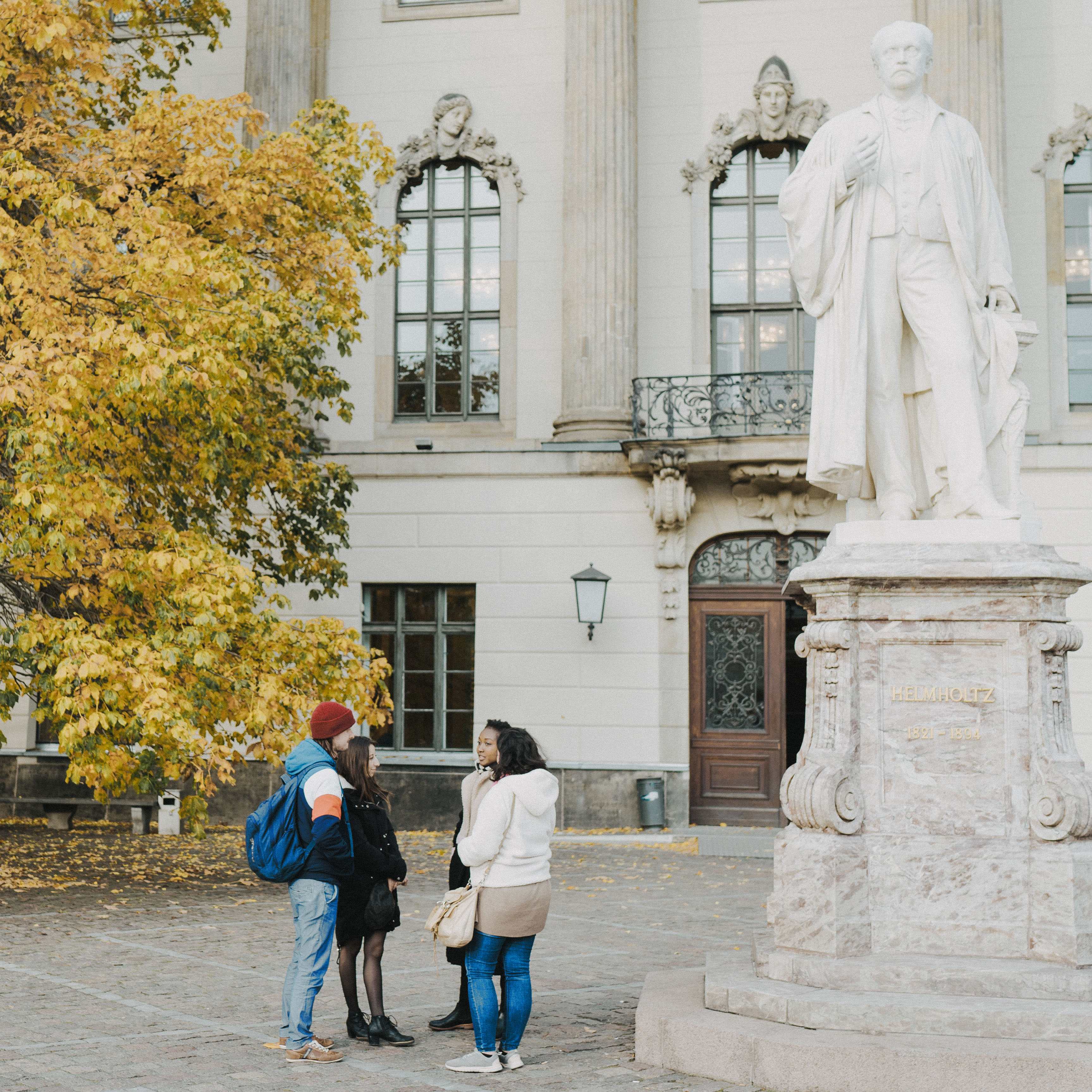 The insitutes of Humboldt-Universität zu Berlin are grouped into three main campuses which comprise more than 150 buildings in Berlin. Not every building is barrier-free, e.g. on Campus Nord. Therefore, we advice you to check in advance whether the studies you wish to pursue take place in a building that is accessible for you. In the case of combined Bachelor's programs, it may be necessary to travel between different campus areas. Please allow for extra travel times.
Campus Mitte
The main building of Campus Mitte is located in the heart of Berlin in Unter den Linden 6, 10117 Berlin. For wheelchair users it is best reached from the nearby S-Bahn and U-Bahn station "Friedrichstraße". From there it is approx. 50 meters to the main building. Use the rear entrance on Dorotheenstraße and pass through the iron gate to get to the barrier-free back entrance of the building. On the front entrance (facing Unter den Linden) there are also barrier-free buses (100, 245) coming from "Alexanderplatz" station (also accessible by wheelchair) to "Staatsoper", which is just opposite the main building.
Campus Nord
Campus Nord houses various faculties and has got a variety of entry points. Depending on which faculty you want to go to, there are different ways to get there. The address of the "Berlin School of Mind and Brain" at Luisenstraße 56, 10117 Berlin is recommended as the central point of arrival. Nearby is also the bus stop "Charité - Campus Mitte" (Bus 147) of the public transport, confusingly called Campus Mitte, as the Charité is located on the edge of Campus Nord. If you would like to go to the Mensa Nord or the library branch of Campus Nord, it is advisable to get off at U-Bahn station "Naturkundemuseum" (U6). From there it is about 500 meters. In case you arrive by train, you can take the tram (M10) from "Hauptbahnhof" to "Naturkundemuseum".
Campus Adlershof
Campus Adlershof is the vibrant heart of Berlin Adlershof Science City and is located in the southeast of Berlin. The "Erwin Schrödinger Centre" at Rudower Chaussee 26, 12489 Berlin is recommended as the central point of access. For wheelchair users it is best reached from the S-Bahn station "Adlershof". From there it is 850m to the campus. You can either walk or take the barrier-free tram (M63) to "Magnusstraße".
Important information
For current timetables, please look at www.bvg.de/en under the keyword: 'Travel Information' and then tick 'barrier-free connection'. We recommend that you check for lift malfunctions before starting your journey, e.g. on the website brokenlifts.org.
Humboldt-Universität is not responsible for the transport to and on the campuses. If you cannot use public transport due to your disability, please contact LaGeSo (State Office for Health and Caring) to inquire whether you can use assisted transport (information available in German only).
Wheelchair users may also find Wheelmap.org helpful for directions and orientation. Wheelmap is an online map for finding and marking wheelchair accessible places.
Assistance
Prospective students with a disability who are fully enrolled at Humboldt-Universität can apply for integration support based on section 9 (2) Berlin Act on Higher Education (BerlHG) at the StudierendenWERK Berlin. Integration support can be given in the form of
study assistants,
sign language interpreters (in German Sign Language) or speech-to-text reporters for deaf students,
technical aids, such as needs-oriented supplementary equipments for laptops or PCs as well as other technical aids that are required for studying. For more detailed information contact the counselling service for barrier-free studies at studierendenWERK Berlin.
Application and Admission
A hardship application may only be made by applicants from Germany, the EU, and the EEA countries of Iceland, Liechtenstein, Norway and Switzerland, and by foreign applicants having a German higher education entrance qualification (Abitur). If you are eligible you can submit a hardship application during the online application for the first semester of restricted-access undergratuate studies. You may also submit a hardship application when applying for a master's program in the first semester.
Hardship applications
A hardship application (pdf with detailed information, available in German only) may be submitted if particular issues, above all relating to health, social circumstances, disability or family issues make the applicant's immediate admission onto the course of study urgently necessary. The degree of disability certified with the card for severely disabled persons as issued by the Regional Office for Helath and Social Affairs (LaGeSo) is in itself insufficient for relying on hardship. Those health issues which call for immediate admission include progressive illnesses or disabilities which make a longer waiting period unreasonable and/or the fact that the chosen study program is likely to bring about successful professional (re)integration. Suitable supporting documents e.g. a German-language medical report must be included in the application. The medical report must deliver an adequately elaborated opinion on the application. A hardship application is not a guarantee of a place on the course.
Claiming disadvantage compensation in an application (undergraduate degree)
If during your school education chronic illness or disability necessitated e.g. periods of time off school, then you may submit a claim for disadvantage compensation and in so doing obtain a revision of your grade average or a shortening of the waiting period. If you can prove with an attestation from your school that e.g. due to chronic illness you were obliged to take time off school which in turn led to a deterioration in your school grades, then a revision of your grade average may be considered. If your higher education entrance qualification could only be awarded later because of periods of absence due to illness or disability, then this may offset the waiting period. An attestation from your school would also be required.
Procedure
You can apply for disadvantage compensation (school attestation) as well as claiming hardship (medical report). Both, the application for disadvantage compensation (grade average/waiting period) and/or the hardship application, are to be submitted as part of the online application for restricted-access study programs and must be handed in together with the other required application documents within the deadline. There is no particular form requirement.
Applicants who want to study for a second undergraduate degree or who do not have the German university admission qualification (Abitur) cannot submit a hardship application.
Admission for hardship cases in the first semester is currently set at a preliminary quota of 5% of university places per study program. If more applications with claims for hardship are received than there are available places within that quota, then a ranking according to degree of hardship will be introduced. A claim for hardship is therefore no guarantee of a place on the course.
If you are not admitted to the course as part of the preliminary quota then your application will automatically advance to the general admission procedure, as well as any other particular procedure, in which you compete with all other applicants. The information you gave with regard to your case for hardship has no bearing on these procedures.
There is no preliminary quota involved in the admission procedure for higher semesters; at this stage all applicants compete on merit, provided that places are available. If you are otherwise on equal ranking with another applicant, you may be given preference on account of a hardship submitted for this purpose according to section 14 (2) BerlHZG.
(Barrier-free) housing
Opportunities for student housing are provided through the studierendenWERK Berlin. They are a third party service provider – offering support for all students enrolled in Berlin universities. Students with disabilities or chronic illnesses who come to Berlin as fully enrolled students can be supported by the studierendenWERK Berlin. Special regulations apply. Please note that exchange students who come to Humboldt-Universität for a certain study period only, e.g. for completing a semester abroad within their study course, cannot apply directly at the studierendenWERK Berlin.
Humboldt-Universität zu Berlin is trying to assist as many students as possible in finding them accommodation by allocating them in selected student halls in Berlin. Applications for accommodation can only be submitted via the International Office of Humboldt-Universität.
The application deadline for student accommodation is the 30th of November for spring term and the 30th of May for winter term. If you should have missed the deadline, please contact us via exchange-students@hu-berlin.de.
If all rooms are allocated you will be put on a waiting list. Should you be allocated a room you will be contacted concerning the booking of an accommodation offer. Additionally, you will be required to pay a 550 Euro reservation fee/deposit. Places in student halls are distributed according to the "first come first serve" principle. Please note that the date of receipt of reservation fee/deposit on the HU bank account is decisive. Only after the payment of this fee your reservation will be binding.
The minimum rental period is 6 months for winter term: 01.09.–28.02. and for summer term: 01.03.–31.08. It is not possible to shorten or change the rental period. Please note: Since accommodation offers within the contingents of Humboldt-Universität zu Berlin are very popular it is not possible to apply for a room in a specific dormitory. However, you can specify your accommodation preferences during your online application. Afterwards, we will check, whether we are able to offer you a room in the corresponding student hall residence.
We strongly suggest you to take care of your accommodation arrangements in Berlin well in advance! For detailed information, you can also go to HU International.
Reasonable adjustments
The objective of reasonable adjustments is to make it possible for students with disabilities and/or chronic medical conditions to complete their studies under adequate conditions and to sit exams without being at a disadvantage. The German version of the text shall always prevail.
Not applicable to hardship applications, see also the hardship applications information
Legal basis
The Berlin Higher Education Act (BerlHG) in sections 4, 9 and 31 requires universities to take into consideration the special needs of students with disabilities and/or chronic medical conditions. These adjustments are not a simplification. They are designed to minimise the disadvantages faced by students with disabilities and/or chronic medical conditions in comparison to other students with regards to technical issues, not content.
Implementation at Humboldt-Universität
The Regulations stipulate that a claim for reasonable adjustments must be made by the student in writing
either informally to the teacher (in the case of assignments)
or to the examination board (in the case of examinations) and the reason for the adjustment must also be verified with suitable medical proof.
Important information
The assignment or examination to be completed must be equivalent.
The examination board and/or teacher then determine in consultation with the student and/ or examiner suitable measures, such as taking an equivalent examination with extra time, in a separate room, in another form or with the help of additional staff, technical support and suchlike. For this, the student should propose a specific form of adjustment according to their individual need(s).
For state examinations, the claim for reasonable adjustments must be submitted to the state examination office concerned. The claim must be submitted in good time.
The extent and type of compensation must be clearly defined. For example: extension of the time for a written exam or the substantiated claim for an extra room or attendance of a person that should assist in a specific situation.
There is no prescribed form of adjustment, nor can adjustments be implemented for several semesters. An adjustment must always be specific to the individual case, illness, study and examination regulations and current examination requirements and must also be described in exact terms. For this reason, there are no set criteria that specify which adjustments are possible/required for which illness.
A certificate or proof of a disability card alone is not sufficient.
Please consider which measure(s) could be appropriate and helpful for you.
Insufficient adjustment: "... extra exam time granted." Here it is not clear how much extra time has been granted.
Sufficient adjustment: "... 30% extra exam time granted." The extension is clearly defined. It would be even better to state the extensions granted for various exam times, e.g. 30 minutes for 90-minute exams, minutes for 120-minute exams etc.
In order to apply for these "reasonable adjustments" ("Nachteilsausgleich") you need a medical certificate ("Attest").
Information regarding medical certificates
The medical certificate should be given by a specialist in German language stating the symptoms of your disability in relation to the study related difficulty.
It must be no more than six months old. For chronic medical conditions, the certificate may, in exceptional cases, be up to one year old.
Please bear in mind that the medical proof should be written in laymen terms, so that the staff dealing with your request can comprehend your disability as well as your study related difficulty.
Obligatory details
Letterhead, doctor's stamp, name of doctor, date, signature
Name and address of patient
What disability/illness does the patient suffer from? Since when?
ICD10 classification
How severe is the disability/illness?
Is the disability/illness and/or health-related limitation likely to persist or is it likely that the patient's symptoms/health will change?
What is the extent and what are the results of the patient's health-related limitations on his/her ability to study or sit exams? The frequency (hours/days/weeks) of an inability to study or sit exams must be stated.
What specific, health-related limitations relevant to the patient's studies and examinations come as a result of his/her disability/illness? These must be specified, e.g. pains, difficulty with writing, concentration issues etc.
Optional details
Can a statement be made as to which adjustments (e.g. adjustment of compulsory attendance, extended exam time, breaks etc.) would be appropriate, from a medical point of view?
Since when has the doctor been treating the patient?
Is hospitalisation or surgery foreseeable?
Did/does the patient's illness result in a persistently or even periodically limited ability to study or sit exams? If yes, when and for how long?
Has the doctor been released from doctor-patient confidentiality? Is he/she able to answer questions?
Please contact the Disability Advisory Service beforehand if you need further information or help with your claim.
You should contact the examiner and the examination board concerned at least four to six weeks before the day of an examination and contact the teacher before the deadline of a set assignment. The later you do this, the harder it will be to implement any adjustments.
Insurance
The International Office of Humboldt-Universität can help with the health insurance coverage. If you need special benefits due to your disability, please contact the insurance company in your country and a German public or private insurance provider in time.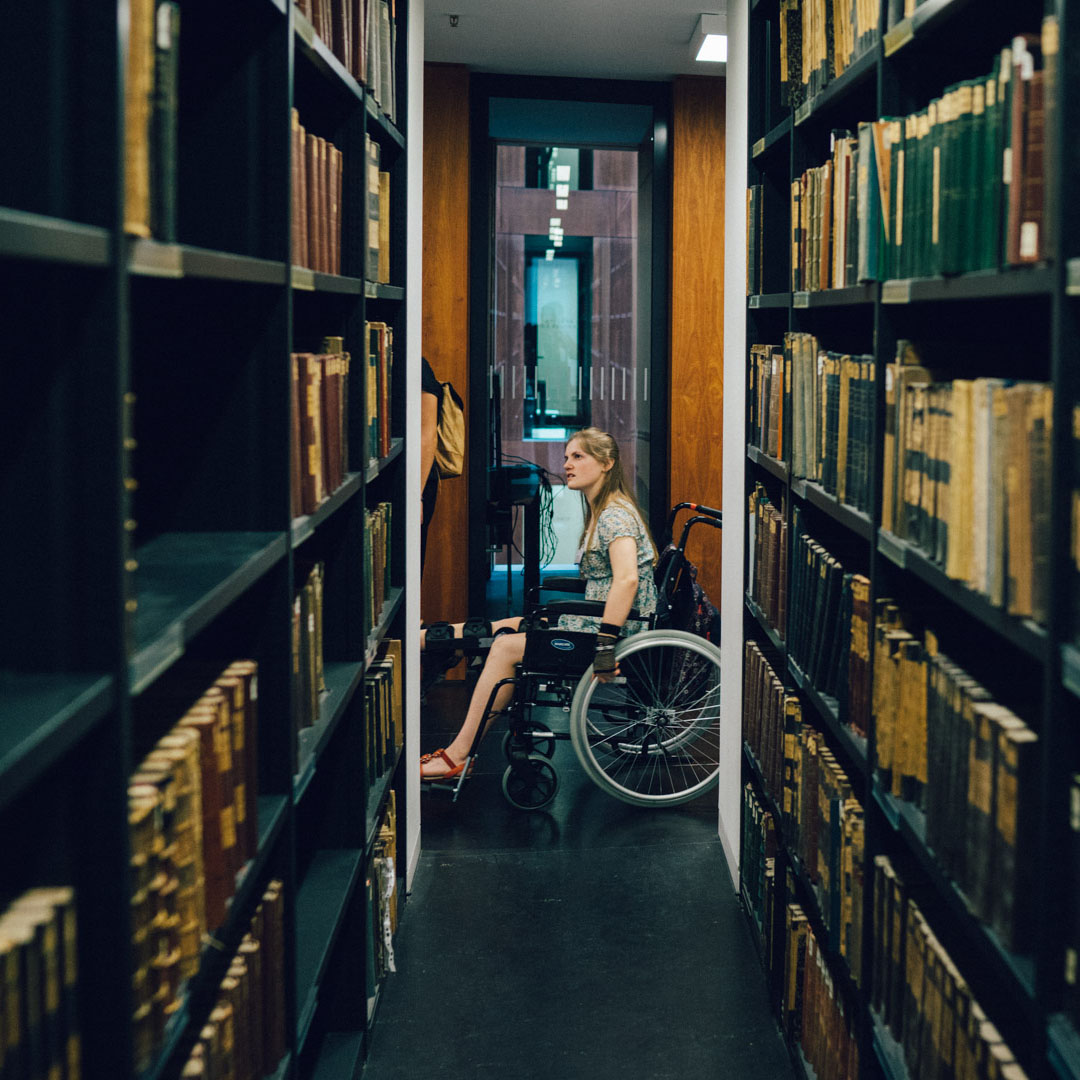 Libraries
The Jacob-and-Wilhelm-Grimm-Zentrum as well the other university library branches are providing several barrier-free working stations, also for visually impaired or blind students. Check the website for an overview of the library facilities.
Networking
Due to pandemic restrictions the Stammtisch (opportunity to meet and exchange) for students with disabilities is held online every first friday of the month. Should you wish to participate, please contact Katja Tempe under beratung.enthinderung@refrat.hu-beratung.de