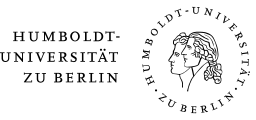 Chemistry
Degree
Mono-bachelor, Bachelor of Science (B.Sc.)
Please also have a look at the 'Bachelor's and master's courses at HU' FAQ and if you want to become a teacher the 'Chemistry' - combined bachelor's course.
Standard time for completing course
6 semesters
Start of study
Cf. course catalogue
Course structure
In total 180 credit points (CP*) are required

Mandatory modules: 140 CP incl. Bachelor's thesis, 12 CP
Mandatory elective modules: 30 CP
General elective modules: 10 CP
*One credit point (CP) equals a workload of 25 - 30 hours for preparation, follow-up and attendance at classes.
Course objectives
The course is aimed primarily at people intending to work as professional chemists in research, development, production and application. Students on the course acquire the skills to analyse and solve chemistry-related problems. The skills are taught through a combination of face-to-face teaching, virtual teaching and self-study, both alone and in groups. The Humboldt-Universität zu Berlin Chemistry course offers its students the opportunity to contribute to research and development projects independently and at an early stage. The aim is for students to reach a level of knowledge that enables them to take an informed decision about their further professional path. This is why students will
Acquire broad, theoretically and methodologically supported knowledge of inorganic, organic, physical, theoretical and analytical chemistry,  biochemistry and structural chemistry,
Learn how to identify and use the linking concepts of chemistry,
Acquire a broad base of experimental skills for a career as a professional chemist.
Why study Chemistry at HU?
Many well-known chemists and Nobel Prize laureates, including August Wilhelm von Hofmann, Emil Fischer, Walther Nernst and Max Bodenstein, studied and taught at this university's Department of Chemistry. In 2001, the Department of Chemistry moved into its new home in the Adlershof district of Berlin and is now based on the science campus there.
The Chemistry course is well organised and has a modular structure. A pre-defined, fixed timetable puts you in a perfect position to acquire your degree in the standard time for completion. In addition to the well-equipped laboratories, the Faculty building (which is shared with Physics) boasts state-of-the-art lecture theatres and seminar rooms. Student guides rank Chemistry at Adlershof amongst the best courses in Germany for teaching.
A special feature of the Department of Chemistry at HU is the separate discipline of Analytical and Environmental Chemistry. Functionally-structured materials and catalysts and chemical biology are two promising research fields for the future that we introduce students to via research internships. The science hub at Adlershof also enables direct cooperation between departments, for example the Departments of Physics, Mathematics and Computer Science of Humboldt-Universität. We also have partnerships with companies and research institutes such as the Federal Institute for Materials Research and Testing (BAM), the Max Born Institute for Nonlinear Optics and Short Pulse Spectroscopy (MBI), the Ferdinand-Braun-Institut für Höchstfrequenztechnik and the Leibniz Institute for Crystal Growth (IKZ). This means that students have the extra option of doing their research internships at non-university organisations.
Content of studies
The best way to find detailed information about the exact course content is using the annotated university calendar. Module descriptions and the course curriculum can be found in the course and examination regulations, available online at www.amb.hu-berlin.de, no. 32/2020. The Course Advisory Service is also available to help you (see below "Addresses").
Mono-bachelor's course with 180 CP
Mandatory modules (140 CP)
Module

Description

Size

ALL

General Chemistry

5 CP

AC1

s-p Block Elements

6 CP

AC2
Anorganic Chemistry Beginners Internship
5 CP

AC3

p-d Block Elements, Coordination Chemistry

5 CP

AC4
Basic Internship: Anorganical-Chemical
5 CP
AC5
Coordination Chemistry and Organometallic Chemistry
6 CP

AC6

Anorganic Advanced Internship: Modern Inorganic Synthetic Chemistry

6 CP

PC1

Chemical Thermodynamics of pure substances and of mixed phases

6 CP

AU1/PC2
Fundamentals of Analytical Physical Chemistry II
10 CP
PC3
Physico-Chemical Basic Internship
6 CP
PC5
Chemical Bonding
5 CP
AU2
Instrumental Analytical Chemistry
5 CP
AU3
Analytical Basic Internship
5 CP
AU4
NMR with Instrumental Analytical Internship
6 CP
AU5
Vibrational Spectroscopy and Mass Spectometry
6 CP

OC1

Foundations of Organic Chemistry

5 CP

OC2

Organic Chemistry - Structure and Reactivity

5 CP

OC3
Internship - Basic Methods of of Organic Chemistry
5 CP

OC4

Organic Chemistry- Structure and Reactivity of Organical and Biological Compounds

10  CP

OC5
Advanced Organic Synthesis Chemistry
6 CP

OC6

Advanced Organical-Chemical Internship

5 CP

OC7

Bioorganic Chemistry and Natural Products Chemistry

5 CP

BA

Bachelor's thesis

12 CP
Mandatory elective modules (30 CP)
| | | |
| --- | --- | --- |
| Module | Description | Size |
| PC4 | Quantum theory with Group Theory and Molecular | 10 CP |
| PC6 | Statistical Thermodynamics and Quantum States | 5 CP |
| Math I | Mathematics I | 5 CP |
| Math II | Mathematics II | 5 CP |
| Gr. Nat | Fundamentals of Natural Sciences | 5 CP |
Instead of these modules students can choose alternatively other modules from the course catalogues of the following departments: Mathematics, Physics and Biology.
General elective modules (10 CP)
In addition to specialised study, Students acquire subject-specific, non-specialist and interdisciplinary key qualifications of 10 CP. The general elective modules can be chosen from the module catalogues of other subjects or central institutions (see: http://agnes.hu-berlin.de/)
General elective course offerings for students coming from other fields of studies
| | | |
| --- | --- | --- |
| Module | Description | Size |
| AC1/ÜWP | s-p Block Elements | 5 CP |
| AC3 | p-d Block Elements | 5 CP |
| AU1/PC2 | Fundamentals of Analytical Physical Chemistry II | 10 CP |
| OC1 | Fundamentals of Organic Chemistry | 5 CP |
Master's degree
You can apply for the post-graduate master's course in Chemistry at Humboldt-Universität, (www.amb.hu-berlin.de, Nr. 29/2017). Other courses on offer can be found in the current 'Course catalogue'.
Addresses
Department of Chemistry:  Brook-Taylor-Str. 2, 12489 Berlin, www.chemie.hu-berlin.de/studium/
Course Advisory Service: Dr. Gründer, +49 30 2093 7279, marit.gruender@chemie.hu-berlin.de
Approval/classification (Examinations Office): Ms. Litwin, +49 30 2093 3923, pruefungsbuero.chemie@hu-berlin.de
Applications: hu.berlin/apply
Links to job market:  Gesellschaft Deutscher Chemiker, careers information centre, employment market reports, Hochschulteam calendar of events
Version: January 2020
Back to Course catalogue
---
Contact for questions or feedback regarding this page: studienberatung@uv.hu-berlin.de