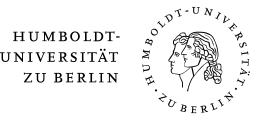 Mono-Bachelor Courses
These undergraduate courses leading to the bachelor's degree consist of a core subject. Please note that all our undergraduate courses are taught in German. Information as from November 28, 2019.
You can reach us by e-mail and by phone at +4930 2093-70333. Please assume that answers can be delayed and that we cannot provide full telephone service. We hope to be available for you again soon. Please inform yourself regularly at https://hu.berlin/corona.
With effect of March 20, Humboldt-Universität, like any other science and research institution of the city of Berlin, has changed into the so-called emergency presence mode. All university buildings remain locked. Access is restricted to those employees who are responsible for securing systemic relevant areas. All other members of the university are fulfilling their official duties in the home office as far as possible.
See information brochure: "Bachelor's and Master's Courses at HU"
For specific entrance requirements, please click here, or on the subject of your choice.
By the decision of the Academic Senate on the studies programme for the Summer Semester 2020 and with agreement of Senatskanzlei. Subject to modifications.