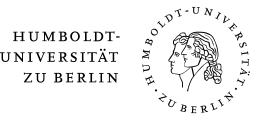 Mono-Bachelor Courses
These undergraduate courses leading to the bachelor's degree consist of a core subject. Please note that all our undergraduate courses are taught in German. Information as from May 3, 2021.
Humboldt-Universität zu Berlin has been in restricted operation since June 8, 2020. The Covid-19-related restrictions have been partially adapted to the new situation. You can reach us by telephone and e-mail, and you can also use our online consultation hours. Further information on restricted operation can be found on the Corona website.
See information brochure: "Bachelor's and Master's Courses at HU"
For specific entrance requirements, please click here, or on the subject of your choice.
By the decision of the Academic Senate on the studies programme for the winter semester 2021/22 and subject to agreement of Senatskanzlei of Berlin. Subject to modifications.