Diversity at Humboldt-Universität zu Berlin
In view of recent events in the USA, the protests against violence against black people and police brutality, Humboldt-Universität is once again addressing the issues of Black Lives Matter, discrimination and racism.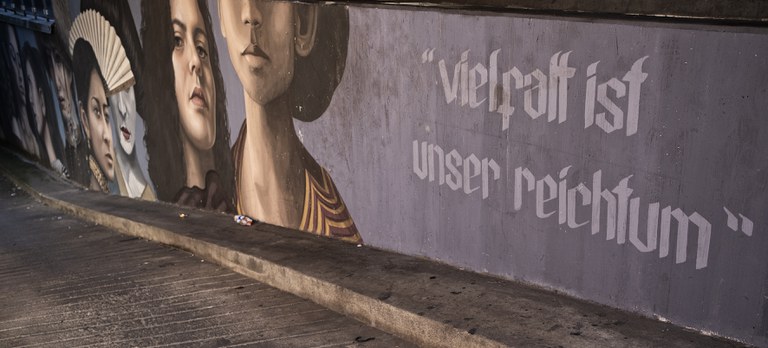 Photo: Matthias Heyde, Artwork: "Vielfalt ist unser Reichtum" by Colectivo Licuado (Camilo Nunez and Florencia Durán Itzaina) in Schöneberg, Berlin
Humboldt-Universität zu Berlin sees itself as a place of plurality of opinion, mutual appreciation and respect. But the Humboldt-Universität is not free of discrimination and racism either. Every university is a nucleus of society, even in a city as diverse and colourful as Berlin. Structural discrimination and structural racism are unfortunately still far too much a reality in Berlin and Germany. It also does not stop at the academic community.
We would like to create space for discussion, deal with discrimination and racism and offer information about Black Lives Matter, diversity and anti-racism. Comments and recommendations can be sent to hu-online@hu-berlin.de