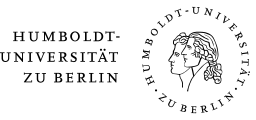 Media Studies
Degree
Second subject for a combined bachelor without teacher training - please refer to the 'Bachelor's and master's courses at HU' FAQ.
Standard time for completing course
6 semesters
Start of study and Entry Restriction
Cf. course catalogue
Combinations
Second subject Media Studies (60 CP1) with a core subject from the Course catalogue for a combined bachelor's without teacher training 
1 One credit point (CP) equals a workload of 25 to max. 30 hours for preparation, follow-up and attendance at lectures.
Content and objectives of studies
The bachelor's second subject Media Studies provides scientific expertise in the independent handling of media, in particular with regard to the increasing networking of art, culture and music. It is a relevant, contemporary supplement to all core subjects offered at Humboldt-Universität. The subject enables students to acquire media-studies-related basic skills and apply them to the knowledge they acquire in the core subject.
The scientific skills gained from the course include the systematic, historical, analytical and technical/practical capabilities indispensable for concept-oriented and knowledge-oriented careers in the culture and media sectors.
Successful graduation from the Media Studies course is preparation for professions in cultural and media institutions, for careers in science and research or further courses, in particular the Media Studies master's course at Humboldt-Universität.
You will find the course and examination regulations with module descriptions, the course curriculum and other details at www.amb.hu-berlin.de, no. 65/2019. The best place to find information about course content is the annotated university calendar.
Why study Media Studies at HU?
With its media, music and creative potential, Berlin is the perfect location for testing and applying knowledge gained during teaching sessions in practical activities.
What special skills and interests do you need for this subject?
Anyone interested in working in the media or creative sector must be capable of creative thinking, flexible and able to network well.
Media Studies as a second subject (60 CP)
Module I: Introduction to Media Studies (10 CP)
Module II: Media Theories (10 CP)
Module III: Media Archaeology versus Mediahistiographie (10 CP)
Module IV: Media Dramaturgy and Media Aesthetics (10 CP)
Module V: Degital Media (10 CP)
Module VI: Project module (10 CP)
General elective courses offered for Students coming from other courses of studies
Module VII: Knowledge of Media (10 CP)
Module VIII: Media of Knowledge (10 CP)
Module IX: Media Science in Practice (10 CP)
Module X: Campus radio – Programme and Production (5 CP)
Master's degree
You can apply for the Media Science master's course at Humboldt-Universität (www.amb.hu-berlin.de, no. 66/2019). For further master's courses, see the 'Course catalogue'.
Addresses
Media Studies: Georgenstr. 47, www.musikundmedien.hu-berlin.de/medienwissenschaft, phone: +49 30 2093-66180/66192
Course Advisory Service and Classification and recognition of studies and qualifications: Dr. Leitner, R. 2.21, phone: +49 30 2093-66186, florian.leitner[at]hu-berlin.de
Applications: hu.berlin/apply
Links to job market: careers information centre, employment market reports, Hochschulteam calendar of events

Version: August 2019
Back to Course catalogue
---
Contact for questions or feedback regarding this page: studienberatung@uv.hu-berlin.de