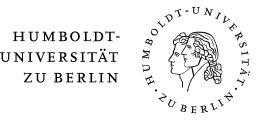 Guest students*
Note: The following information does not apply to the School of Medicine! For questions concerning the "Senior Citizens University" there, please contact: phone +49 (0)30 20678415, www.proseniores-berlin.de.
*The term "guest student" here covers two different categories of students: "Gasthörer*innen" and "Nebenhörer*innen". Find a more precise definition in the box below.
Guest students1 are allowed to attend one or more classes of study programmes offered at Humboldt over a semester. Guest students will not be enrolled and, thus, not be given ordinary student status. A tuition fee of currently 15 € for a lecture or class of 45 minutes over one semester will currently have to be paid.
1 Find the relevant regulations at hu.berlin/zsp, §§ 55 and 57.
You will be registered as guest student, but not enrolled, i.e. you will not receive student status at the HU and you will not have a student account (also called AGNES account). You can create a moodle account to access the online learning platform yourself: moodle.hu-berlin.de.
Information on the classes offered, when exactly and where they are held, who is lecturing and if there are special requirements students must meet for entrance can be obtained from the annotated university calendar of the faculties or institutes. If advice is needed on a suitable choice of lectures, please contact the Studienfachberatung (Course Advisory Service) at the faculty/institute of your choice.

You may apply for a guest studentship by completing a form (see below). You are then required to get the consent and signature of the staff member whose lectures or classes you wish to attend. If there are no free places left, students enrolled at Humboldt will have to be given priority. No deadline must be met for the application, but it is recommendable to attend the first session. The semester usually starts on a Monday in either mid-October or mid-April. The status of guest student will, if agreed upon, be valid until the end of the semester you applied for.
There are two categories of guest students:
guest auditors (Gasthörer*innen)
visiting students (Nebenhörer*innen)

As an guest auditor you are not enrolled at an university and you do not need to submit a secondary school leaving certificate (Abitur).
As an guest auditor you are not eligible for taking examinations. Instead you may be given a certificate of achievement.
Certified achievements of guest auditors will not be recognised for entering a full-time course of study at Humboldt, which means there will be no preferential treatment when they apply for a course with restricted entry (Numerus clausus course).

What Humboldt offers to guest students is to be found online in the Vorlesungsverzeichnis (Course Catalogue) of Humboldt-Universität > Wissenschaftliche Weiterbildungsangebote and in a brochure.

As a visiting student or Nebenhörer*in you are supposed to be a student enrolled at another higher education institution.
The number of classes you take at Humboldt should not exceed six periods of 45 minutes per week.
You may obtain achievement certificates and credit points. If the examiners at Humboldt as well as the examination board of your university agree you may take exams within the continuous assessment scheme. But you may not legally claim to be examined.
Certified achievements of visiting students are admissible for entering a full-time course of study at Humboldt.
Registration as guest student
Forms (with further information)
or
Information desk of Student Service Center (SSC) in the main building of Humboldt-Universität.
If you want to attend language courses at HU Language Centre please turn directly to www.sprachenzentrum.hu-berlin.de.
August 2020