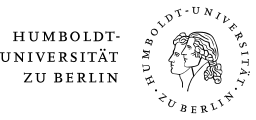 Donating and funding
Dear alumni,
We would like to thank you for your interest in your engagement in Humboldt-Universität. Thanks to the valuable support of our donators and patrons we are able to realise a great variety of projects. Here is a list of opportunities to help Humboldt-Universität zu Berlin.
Mein Grimm - Sponsorship
Donations don't have to be big to have an impact. , for example through the sponsorship of the programme Mein Grimm. Many books of the Wilhelm and Jacob Grimm's private library have suffered due to intensive usage and years of warfare. Consequently, this cultural heritage is in need of conservation.
Deutschlandstipendium
Make a donation for the best students of Humboldt-Universität. Students applying for the scholarship must show excellent work ethos as well as social commitment, such as volunteer works for student associations, religious associations or political organizations.
Humboldt-Universitäts-Gesellschaft
The Humboldt-Universität-Gesellschaft is a registered association led by former students. Donations primarily go to student projects in need of financial help.
Stiftung Humboldt-Universität
Funding of excellent teaching and elite research are the set goals of the Stiftung Humboldt- Universität. Lately promoted projects were the Humboldt Bayer Mobil and diverse building projects on the Campus sites.
All donations are tax-deductible. If you require more detailed information, we are happy to help. Please contact the team Friend& Fundraising.