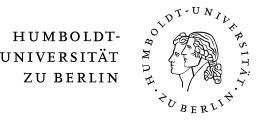 Stay Humboldt
The central alumni office of Humboldt-Universität zu Berlin
Stay Humboldt
Wilhelm, Alexander - and now you
Did you study, work or do research at Humboldt-Universität zu Berlin? As your Humboldt family we would like to accompany you on your way after graduation. Our team helps you to stay in contact with your alma mater and is happy to give advice on any questions you might have concerning alumni relations.
Stay Humboldt.
Alumni-Ausstellung "Wir sind Humboldt"
Who is part of the Humboldt family?
A photo exhibition opening in October 2018 will answer this question. WIR SIND HUMBOLDT ("We are Humboldt") portrays 30 national and international alumni of HU born between 1932 and 1990. This includes former students, but also researchers and member of staff. All of them are Humboldt, all of them have shaped the university and given new life to it.

WIR SIND HUMBOLDT tells the story of people at Humboldt-Universität in a city shaped by historic disruptions and constant change: from the NS time and the occupation by allied powers to a divided Germany to now.
The larger than life colour photographies by Berlin photographer Matthias Heyde are printed on canvases sized 70x100cm and framed in wood. Short texts about the life and work of the alumni will complement the photographies. After the opening of the exhibition in the foyer of the main building the photos will be moved to the west wing (opposite the lecture halls), where they will be on display permanently.
Would you also like to be portrayed for the exhibition or do you know someone with an exciting story about their time at Humboldt? Then don't hesitate to contact us at alumni@hu-berlin.de.