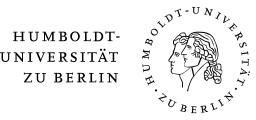 Employees
Current questions and related answers regarding the restricted mode at Humboldt-Universität.
We are currently updating this page. Thank you for your patience!
Questions and Answers
The winter semester 2021/2022 is a transition semester on the way back to face-to-face teaching. This means that teaching (including colloquia, etc.) will always take place in person.
Classroom teaching is to be supplemented by digital courses and blended learning formats in order to enable students who cannot participate in classroom teaching for justified reasons to progress in their studies to a certain extent.  
However, a double teaching offer (i.e. in the form of all courses in presence and digital) does not have to be provided.
Prerequisite for participation in a face-to-face course is proof of vaccination or convalescence or proof of a negative test result, which must not be older than 48 hours.
In principle, a safety distance of 1.5 metres from other persons must be maintained in closed rooms.
The minimum distance may be less if protection against droplet infections and aerosols is ensured. In this case, the obligation to wear an FFP2 mask applies for the entire duration of the event. Lecturers and students may wear a surgical mask for the duration of their lecture, provided there is a distance of 1.5 metres to the auditorium.
A maximum of the available seats per room may be occupied. There is no limit to the number of participants beyond this. Attendance documentation shall be made digitally for each room. In the event that electronic recording is not possible, attendance documentation sheets will be available and archived by the teacher for four weeks, after which the sheets are to be destroyed.
Vaccination status, convalescence status or negative test results are checked on a random basis per building by security staff. The teaching staff are also entitled to check the proof; in accordance with § 3 Paragraph 2 Sentence 2 Number 3 Framework House Rules of Humboldt-Universität zu Berlin (AMB No. 34/2019), they exercise the house rules and expel those not entitled to do so.
Please find all relevant information in the Guidelines for Conducting Classroom Teaching Events (PDF).
Humboldt-Universität has founded the interdepartmental Task Force Digital Teaching to support teachers. The Task Force is made up of staff from the Computer and Media Service, the bologna.lab and the International Office and offers technical and didactic support for planning the implementation of digital teaching from a single source.
 
Overview of recommendations for planning and implementing digital teaching
Collection of answers to frequently asked questions about digital teaching in the summer semester (FAQs)
Further suggestions and materials for getting started with digital teaching can be found in the Moodle course "Translating face-to-face teaching into online teaching" (in German).
Work on site
The admission requirement for all members of the university is proof of vaccination or convalescence or proof of a negative test result, which must not be older than 24 hours, or 48 hours in the case of PCR tests.
Proof of vaccination: Persons are considered vaccinated if they have been vaccinated against Covid-19 with a vaccine approved by the European Union and their last required vaccination was at least 14 days ago.
Proof of recovery: Persons are considered to have recovered if they have tested positive for SARS-CoV-2 coronavirus infection by PCR at least 28 days and not more than six months ago.
Test detection: Persons are considered tested if their negative test result is not older than 24 hours. Self-tests not performed under supervision are not accepted as evidence. In addition, test detection based on a PCR test is possible. In these cases, the test must not be older than 48 hours.
The management of the employment areas designate persons to whom the employees prove their 3G status, according to expediency.
For those who have been vaccinated and recovered, the status only needs to be proven once.
Employees who are neither vaccinated nor recovered must present a negative test at the beginning of each day of attendance. The test must not be older than 24 hours, in the case of PCR tests not older than 48 hours.
The name of the employee, the type of test, the date of the test and the name of the person carrying out the test shall be noted in a list. In the case of convalescents, the end date of the convalescent status is also documented.
The proofs must be carried by the employees and presented for the check, or can be deposited at the place of employment. Only the temporary presentation of a document on 3G status can be required for the documentation. Deposit of the document or a copy at the place of employment is only permitted with the consent of the:person concerned. In case of a required proof of test: As the test status has to be proven before starting work, the daily start of work has to be agreed upon by the employees with the control persons. The possibilities of a flexible start of work are limited in this respect.
The performance of the tests is a legal obligation and a prerequisite for starting work. The test centres set up by the HU continue to be available twice a week and are to be used preferentially. Test time does not count as working time.
There is no obligation to test/test in the home office or when working on the move.
The lists of evidence are to be treated confidentially. They must be kept protected from unauthorised inspection and must be presented to the supervisory authority, divisional management, management or the pandemic officer upon request.
The vaccination, convalescence and testing records may only be processed by the HU if this is necessary for the purpose of verification. In addition, the data may be used in the adaptation of the operational hygiene concept. Processing for any other purpose is not permitted. The data shall only be transmitted in anonymised form. Exceptions are to be agreed in advance with the pandemic officer or the data protection officers.
The data must be destroyed no later than six months after collection. Employees who fail to provide proof must be rejected. If work in a home office is not possible, there is no entitlement to remuneration. Such cases must be reported to the personnel offices.
The mere unwillingness to prove one's 3G status does not entitle the employee to refuse presence work or justify a claim to mobile work in the home office.
Students and employees of the university can be tested for the corona virus in the test centres at the Mitte Campus, in the auditorium of the Jacob and Wilhelm Grimm Centre, and at the Adlershof Campus in the Erwin Schrödinger Centre. Here, medically trained staff perform rapid tests from Monday to Friday from 7 am to 6 pm. After the nasopharyngeal swab, the test result is available about 15 minutes later.
New: Since 13 November, asymptomatic persons are again entitled to a free test using PoC antigen text ("citizen testing") at least once a week.
Further information on the rapid test centres
1. Mouth-Nose-Covering (MNB):
In the buildings and on all traffic areas of the university, it is compulsory to wear at least one medical face mask or FFP2 mask.   
Workers may work without a mask at their own workplaces. If the distance rule cannot be observed due to work conditions, technical measures such as partitions between workplaces cannot be implemented and the risk assessment shows that protection of employees by a medical mask as a surgical mask is not sufficient, employees must wear an FFP2 mask or a mask with a comparable protection standard (e.g. masks of type KN95, N95 or KF94) for mutual protection.
Medical masks can be ordered centrally as personal protective equipment by department heads, managing directors or administrative heads via the e-mail address pandemie.ta@hu-berlin.de.
Face shields as well as clear face masks are not a substitute for medical mouth-nose coverings.
Exemptions from the mask requirement apply in accordance with the current SARS-CoV-2 Infection Control Measures Ordinance and proof must be provided accordingly upon request.
2. Ventilation: In closed rooms, the concentration of viruses can rise sharply. Regular intermittent ventilation lowers the viral load. Therefore, during corona periods, offices, event and seminar rooms should be ventilated every 20 minutes for at least five to ten minutes across the entire window area. In cold outdoor temperatures in autumn and winter, three to five minutes can be sufficient, whereas in summer, when outdoor temperatures are higher, the same air exchange is only achieved after ten minutes. In meeting, event and seminar rooms, the room should also be well ventilated before and after each event.
3. keep your distance: Keep a safe distance of at least 1.5 metres from other people at all times, for example by keeping a sufficient distance between seats in offices, workrooms, examination situations, etc. 4.
4. wash your hands properly: Wash your hands thoroughly with soap and water several times a day and as needed. 5.
5. avoid shaking hands: Avoid shaking hands during greetings, introductions, farewells, etc.
6. keep hands away from face: Avoid touching eyes, nose and mouth.
7. Cough and sneeze hygienically: Cough and sneeze into your sleeve or the crook of your arm, never into your hand! Keep as much distance as possible from other people and turn away from the person in front of you.
8. Proper nasal hygiene: Use only paper handkerchiefs. Dispose of them immediately after use, preferably in a closed rubbish bin.
9. clean surfaces regularly: Clean your personal work area such as desk, telephone, keyboards etc. regularly to prevent smear infection. Common household cleaners are sufficient for this purpose; disinfectants are not necessary. General cleaning of floors, light switches, lifts etc. is carried out by the cleaning service.
10. give special protection to risk groups: For persons over 60 years of age and for the chronically ill, vaccination against pneumococcal infection and against whooping cough is recommended in accordance with the recommendations of the Permanent Vaccination Commission at the Robert Koch Institute. Corresponding vaccinations should be carried out immediately.
Distance and hygiene rules must be observed at all times. A summary can be found in the framework hygiene plan of the HU (PDF).
11. lifts: Please use lifts only individually and with mouth-nose protection
Working in the office / Working from home
Taking into account the workplace-specific risk assessment, the following rules apply to working in presence. Employees may only enter the workplace if they are either fully vaccinated against the SARS-Cov2 virus, have recovered or have tested negative. The presence of 3G requirements must be demonstrated by all workers and checked and documented by employers.
In order to contain the spread of Covid-19, the work on site is organized and documented by the management of the respective department. Employee attendance times and room occupancy are documented in writing on a daily basis and independently of the individual time recording. This enables effective tracing of infection chains in case of need.
Reduce the occupancy rate/employee count to 50 per cent for multiple occupancy per office workstation. As a rule, room occupancy shall be limited to one person per office per working day; where necessary, rolling presence and room occupancy shall be used for this purpose.
If multiple occupancy is unavoidable in open-plan offices, laboratories and the like, it must be possible to comply with the distance and hygiene rules at all times. Otherwise, technical precautions, for example in the form of transparent partitions (spit shields), must be provided to minimise the risk of infection.
The presence of the staff members should be distributed evenly over the days Monday to Friday in a fixed team constellation for each area.
All hygiene and clearance rules that have been introduced must continue to be observed. It is recommended to wear mouth and nose protection (everyday masks) on the traffic areas of the main building.
In common rooms, when several people meet in closed rooms and on so-called social areas (photocopying room, tea kitchen, etc.) the wearing of a mouth and nose protector is strongly recommended.
Personal contacts for the exchange of opinions in smaller groups should continue to be avoided in closed rooms due to the known infection spreading mechanisms.
To curb the pandemic, the same applies: Work tasks that can and should be carried out in the home office can also be carried out from the home office.
The prerequisites for this are still in place:
    the technical possibility to work from the home office
    the possibility to implement the defined work content in the home office
    a binding agreement with the supervisor who is planning for his/her area
    of responsibility
In principle, the supervisor and the employee decide after weighing up all general conditions whether the activity is to be carried out in the home office or on campus. Medical certificates and membership of a risk group must be observed.
Risk groups as defined by the RKI should be used in the home office as far as technically possible and desired.
The members of risk groups assess their individual risk themselves, combined with a workplace-specific risk assessment.
The company physicians decide in particular whether the measures taken and rules of conduct provide sufficient protection against possible infection.
No. The individual scope of working hours and the general regulations on the location of working hours are also basically unchanged in the home office. In the home office, confidential working hours apply. Unless otherwise agreed, the employee has to be available during the core working hours from 9 a.m. to 3 p.m. or on Fridays and days prior to holidays from 9 a.m. to 1 p.m. For part-time employees, the working hours regulations apply in case of doubt as they were before the special regulations due to the pandemic.
Deviating rules on availability and location of the actual working hours may be agreed if, for example, this makes it easier to reconcile work in the home office with caring duties. Persons who are only able to work to a limited extent due to pandemic-related care obligations should contact their supervisors.
Notes on occupational safety and health - Risk assessment
The managers of each unit are requested to check their areas for the SARS-CoV-2 occupational safety standards on the basis of a risk assessment, to document the measures to be introduced and to instruct their employees promptly about the prevention and occupational safety measures that have been introduced.
If you or a person living with you is placed under official quarantine by order of the public health department in accordance with § 30 of the Infection Protection Act, please contact your supervisor immediately by telephone. The payment/remuneration will continue to be paid.
The ongoing payment/remuneration is guaranteed.
Tests are carried out in certified rooms.
The central contact persons are: Mr. Sandy Pleißner, sandy.pleissner@hu-berlin.de, telephone: (030)2093-70157
Contact persons in the faculties for booking faculty rooms
Public events
The holding of other, non-teaching or research-related events in the presence of events such as meetings, conferences, further education courses in the university's properties with the participation of the public are generally prohibited from 1 December 2021 until further notice. In justified cases, an exemption may be granted. The central pandemic officer of the HU will decide on this upon application.
For the memorial sites and museums of the HU (Animal Anatomical Theatre, Humboldt Laboratory), the specifications for cultural facilities of the Third SARS-CoV-2 Infection Protection Measures Ordinance apply in the currently valid version (in particular the 2G principle).
Care
If you have to take over the care of your children or other family members due to the closure of facilities (school, day care centre, etc.), please contact your supervisor. If, after consultation, there is no alternative employment opportunity, you will be given paid leave of absence.
Employees with chronic illnesses or certain previous illnesses are asked to contact their supervisors to make arrangements for the protection of their health, for example by working from home. The university's in-house physician, Dr. med. Ute Anske, issues a certificate for risk groups. Appointments can be made via email at: ute.anske@charite.de. Supervisors can exclude suspected cases and employees with symptoms of illness from work and request them to see a physician.
Access to university buildings
No, there is still no classroom teaching at the HU. The buildings of Humboldt-Universität will remain closed to the public until further notice.
Yes, as long as this is indispensable for the completion of urgent tasks in research, teaching and administration. This is decided by the management of the faculties, central institutes, central facilities and administrative departments upon informal application by e-mail.
Implementation of attendance examinations
Tests are carried out in certified rooms.
The central contact persons are Mr. Sandy Pleißner, sandy.pleissner@hu-berlin.de, telephone: (030)2093-70157
Contact persons in the faculties for booking faculty rooms
From March 20 onwards all buildings of the university will remain closed. 
The Grimm Centre and all departmental and branch libraries remain closed to the public. A
The Grimm Centre and all specialist and branch libraries remain closed to the public.
All HU staff and students have access to a low-contact lending system.
Please refer to the instructions in the general hygiene plan for the implementation of face-to-face sessions (service consultations, workshops, etc.). These must be observed.
An initial supply of mouth-and-nose protection and disinfectants is available from the central and decentralised administrative units.
Against the backdrop of the COVID 19 pandemic, pregnant women do not have to work in attendance.
Unless there is already a ban on employment for other reasons, they may, if they wish, be employed in presence mode.
The pregnant woman's wish to work in attendance must be explained to her supervisor in writing or by e-mail.
Prior consultation with the AMZ company physicians is strongly recommended.
The contact persons are: Mrs. Ines Riebeling, ines.riebeling@charite.de
                                     Mrs. Dr. Ute Anske, ute.anske@charite.de
The general obligations in the case of pregnancy to assess the risk and to take protective measures according to § 13 MuSchG remain unaffected.                               
No, the Humboldt store remains closed. However it is possible to order online.
Official trips and vacation
The general ban on business trips will be relaxed. Mandatory business trips may be undertaken with immediate effect.
The travel recommendations of the Robert Koch Institute (RKI) and the Federal Foreign Office apply. The applicant must explain in the application why the business trip is absolutely necessary.
For the business trip, the train and, in exceptional cases, the private car must be used. Domestic flights within Germany should continue to be waived, regardless of the pandemic. Travel within the framework of courses is only permitted for compulsory modules (one-day compulsory excursions). These are treated like practical courses.
For example, cancelling a holiday in the context of the pandemic is not a reason to withdraw from an already approved holiday. In principle, unilateral withdrawal is not possible anyway and in the current situation, the employer cannot agree to a holiday cancellation. (This regulation is still valid)
Research
In principle, the DFG provides additional funds; these are used to cover personnel and cancellation costs. In the case of collaborative projects, it is also possible to receive additional project funding at the end of the project. EU: Please contact your project officer, who will work with you to find solutions. For all other funding sources and questions about your third-party funded projects, please contact the Service Centre Research at:   forschung-sek@uv.hu-berlin.de
Translated with www.DeepL.com/Translator (free version)
Access to the Research Information System of the HU Berlin (HUFIS) remains unrestricted for all authorized persons. All necessary information can be found on the website (german only). For all questions and problems with HUFIS, you can also contact the hotline as usual. (This regulation is still valid)
Wissenschaftszeitvertragsgesetz (WissZeitVG)
The Bundestag and Bundesrat have passed the law to support science and students due to the COVID 19 pandemic (Science and Student Support Act). It came into force retroactively as of 01.03.2020.
The law inserts the following paragraph 3 in § 7 WissZeitVG: "The total permissible fixed-term period under section 2 (1) sentences 1 and 2 shall be extended by six months if an employment relationship under section 2 (1) exists between 1 March 2020 and 30 September 2020. The Federal Ministry of Education and Research shall be authorized to extend the permissible fixed-term period by statutory instrument, with the consent of the Bundesrat, by a maximum of a further six months if this appears necessary due to the continuing effects of the COVID 19 pandemic in the Federal Republic of Germany; the extension shall also be extended to employment relationships that are established after 30 September 2020 and before the end of the extension period specified in the statutory instrument.
This creates the basis for continuing to employ research staff who are unable to complete their qualification project as planned due to the restrictions during the COVID-19 pandemic, even beyond the previous maximum period of six years before the doctorate or six years after the doctorate for up to a further six months. (This regulation is still valid)
The new regulation applies to all research assistants who are in a fixed-term employment relationship for qualification purposes in the period from 01.03.2020 to 30.09.2020 in accordance with § 2 para. 1 WissZeitVG. 
No, according to § 2 para. 2 WissZeitVG, fixed-term employment contracts are not covered. (This regulation is still valid)
No. The new regulation merely creates the possibility of continuing employment beyond the previous maximum period of notice of six or 12 years. (This regulation is still valid)
No. However, the university's goal is to enable all employees to complete their qualification project, if possible. (This regulation is still valid)
In a regular employment procedure. Please speak to your manager or your supervisor at the appropriate time. (This regulation is still valid)
Your administrator in the Personnel Office for Employees covered by Collective Agreements -III B- will be happy to provide you with information. (This regulation is still valid)
That depends on the conditions of the respective funding agencies. Please contact your project management first. They will contact the Research Service Centre and clarify the possibilities. (This regulation is still valid)
Assistance offered by HU
Domestic violence is also a problem outside of times of a pandemic. However
In times of curfews and contact bans, it can happen that those affected can no longer escape from the person who uses violence and that contact with caregivers is limited. Your own home is not a safe place for everyone in the Corona crisis! 
The HU's central women's representative provides information on her website about contact points and offers of help 
 
Offers of HU
Continuing vocational education and training offers webinars. University sport offers outdoor and online courses. (Status 10 June 2020)
Accidents
First responders must always take care to protect themselves. Classical examples are securing an accident site or putting on disposable gloves when treating wounds. This rule applies regardless of the current corona pandemic. At the moment, however, due to the corona virus, first responders should pay particular attention to self-protection measures, such as wearing a respiratory mask and safety goggles if available. This also includes keeping their distance if possible. This also includes keeping to the coughing and sneezing label and washing hands thoroughly. (This regulation is still valid)
The question about the possible risk of infection during ventilation is justified, especially in view of the current health situation.
The first aid measures, as trained in the training and further training of company first aiders, generally consider resuscitation measures to be
- first and foremost the cardiac massage,
- the use of an AED (if available) and
- ...the respirator.
In an emergency, use a ventilation blanket or the ventilation aid from the AED cabinet.
Important:
If a rescuer refuses or is untrained in mouth-to-mouth resuscitation, chest compressions alone should be performed at a rate of 100 -120/min (depth of pressure 5 - 6 cm, at least 5 cm!) without interruption.
It is at the discretion of the person performing the resuscitation to refrain from ventilation if necessary until a suitable ventilation aid is available.
Further information is available on the website of the HU Technical Department. (This regulation is still valid)
Building with libraries, PC pools, lecture halls and seminar rooms:
Reduction of cleaning in PC pools, lecture halls, seminar rooms and library rooms
 in the offices only the waste disposal is done, there is a minimized floor cleaning
Buildings without libraries, seminar rooms, lecture halls and PC pools:
in the offices, only waste disposal, minimal floor cleaning, but: 
more thorough sanitary cleaning/disinfection with daily cleaning of door handles and grip areas; refilling of soap and towel rolls
daily cleaning of grip areas on all doors in the building, handrails and elevator displays, glass surfaces, foyers, waiting areas, etc.  
Savings are used to ensure the resumption of normal teaching operations and for special cleaning. (This regulation is still valid)
At present, the post office maintains all service offerings. Incoming and outgoing mail is still collected and processed. All mail distribution points will be supplied by the drivers. Inquiries about orders can be sent as usual by e-mail to the post office: poststelle@uv.hu-berlin.de.
There are currently no restrictions on the delivery of parcels by third-party providers, so that parcels arrive safely. All outgoing parcels are processed daily and handed over to the respective postal service providers.
Please note the adjusted opening hours:
Monday to Friday: 7:00 to 12:00 
Does the PRstudB still process applications in restricted operation?
The PRstudB continues to operate as normal. This means that all cases sent by the Human Resources Department (Department of Human Resources) are processed.
Accessibility: prstudb@hu-berlin.de
Monday 10:00 a.m. to 12:00 noon on 0151 1699 7645 (SHK-Beratung) Thursday 6:00 p.m. to 8:00 p.m. on 0151 1554 6166 (SHK-Beratung)
Translated with DeepL