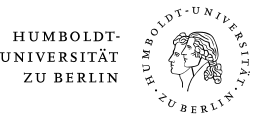 Counselling Service
Counselling Service provide you with support in the decision-making process, with study issues and in planning your educational career.
Humboldt-Universität zu Berlin is in restricted operation. You can reach us by telephone and e-mail, and you can also use our online consultation hours. Further information on restricted operation can be found on the Corona website.
What kind of counselling can our service give you?
Counselling by phone
By appointment: Please write us a
message
, describe your concern and tell us your telephon number and the best time for a call. You will then receive an appointment confirmation or another appointment suggestion.
Open office hours - cancelled until further notice
At the Mitte campus:
Main building Unter den Linden 6, Student Service Center (for information, for using the information point (Infothek), for counselling or making an appointment).
Regular consultation hours:
Please contact the Information Desk first.
Mondays       1 - 3 p.m.
Tuesdays      9 - 11 a.m.
Wednesdays, 1 - 4 p.m.,
Thursdays     1 - 3 p.m.
Fridays         10 - 12 a.m.
At the Adlershof campus:
Rudower Chaussee 25, Johann von Neumann Building, No. 2, room 2'227
Tuesdays and Fridays 10 - 12 a.m.
Online and e-mail
We recommend to use the Internet, also before a counselling session. You can contact us by this form (in German).
The counselling Service is available throughout the whole year, except for the holiday season round the turn of the years.
Please note: For information on medical programmes, please contact Charité - Universitätsmedizin Berlin,
www.charite.de/en/studies/,
hotline: +49 30 450-576042,
Hannoversche Straße 19
.
Psychological Counselling
The
Psychological Counselling Service
offers first aid concerning personal difficulties and serious problems that might arise in your studies. It also offers to advise groups of students on specific subjects, e.g. exam nerves, techniques of scientific work). Besides, it will refer students in need to other  advisory or therapeutic institutions and to self-help groups.
Please note: Medical students should use MediCoach, phone +49 30 450-529189 or send an e-mail to medicoach@charité.de.