Prof. Dr. Niels Pinkwart
Vice President for Academic Affairs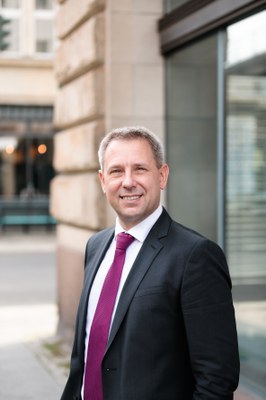 Address
Humboldt-Universität zu Berlin
Unter den Linden 6
10099 Berlin
Office
Room 2036
Contact
Phone: +49 30 2093-20100
Fax: +49 30 2093-1320100

Email: vpl@uv.hu-berlin.de
Curriculum Vitae 
Since October 2021, Prof. Dr. Niels Pinkwart is Vice President for Academic Affairs at Humboldt-Universität zu Berlin. He studied Computer Science and Mathematics in a teacher education program at the University of Duisburg. Here, he also completed his PhD studies in 2005 with a dissertation on collaborative modeling systems in education. After a post-doctoral researcher position at the Human-Computer Interaction Institute of Carnegie Mellon University, he accepted offers for Assistant Professor and Associate Professor positions at Clausthal University of Technology. In 2013, he moved to Humboldt-Universität zu Berlin where he heads the research group "Computer Science Education / Computer Science and Society". His research interests are at the intersection of digitalization, education and societal/organizational change.
In addition to his activities at HU Berlin, Prof. Pinkwart acts as Scientific Director of the Educational Technology Lab at DFKI Berlin and as Principal Investigator of the Weizenbaum Institute for the Networked Society (German Internet Institute). Within the German Computer Science Association, Prof. Pinkwart is currently member of the steering committee of the section on educational technologies.
Prof. Pinkwart has authored more than 250 peer reviewed publications and has conducted several research projects with funding from DFG, Federal Government and foundations. He is a regular member of a variety of program committees of scientific conferences and currently acts as associate editor of the International Journal of Artificial Intelligence in Education and as member of the editorial boards of the Journal of Educational Data Mining.
Staff
 
Viktoria Konstanze Peymann
Executive Coordinator to the Vice President for Academic Affairs
Phone: +49 30 2093-20104
vpl.persref@hu-berlin.de
Room 2033
Mandy Heitland
Office Manager, Office of the Vice President for Academic Affairs
Phone: +49 30 2093-20100
mandy.heitland@uv.hu-berlin.de
---
  Andrea-Cornelia Riedel
  Project Coordinator "Übergänge"
  Phone: +49 30 2093-20107
  andrea-cornelia.riedel@hu-berlin.de
  Room 2033
Patty Jablonsky
Employee
Phone +49 30 2093-20108
Fax: +49 30 2093-1320100
vpl.shk3@hu-berlin.de
Room 2026
---
Institutions