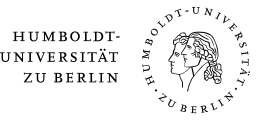 Studying with Disabilities
For applicants and students who are disabled the Disability Advisory Service provides information and support. Consultation is confidential and, upon request anonymous; we are subject to data protection.
Disability Advisory Service
All consultation rooms are barrier-free and sessions can be held in English.
Campus in Mitte
Open consultation hours Tuesdays from 1pm to 3pm in the main building of Humboldt-Universität zu Berlin, Unter den Linden 6, in room 1053 B (ground floor).
Once a month, Stefan Handke from the Counseling Service for Barrierfree Studies from the StudierendenWERK Berlin joins the consultation hours. For forthcoming dates please see "future dates" on the right hand side of the web site.
No advance booking required. Please register at the Infopoint in the Student Service Center during consultation hours.
Campus in Adlershof
Open consultation hours biweekly on Thursday from 2-4pm in Rudower Chaussee 25, room 2'227. Without advance reservation.
Please knock and enter unless there is someone else waiting outside. For forthcoming dates see "future dates" on the right hand side of the website.
Consulting hours by telephone
For minor inquiries call us (030) 2093-70345 on Wednesday between 11-12 am.
Further advice
Advice regarding studying with a disability can also be given at the following facilities.
For urgent inquiries you can reach us by e-mail, or by using the contact form.
Information for students with disabilities
If you have a disability and intend to study at Humboldt-Universität zu Berlin, we advice you to prepare your stay in advance.
For information on studying with disabilities, please visit this page.
Contact information
behindertenberatung@hu-berlin.de
Katrin Rettel
, M.A., M.B.S,
Commissioner
Rike Braden
, B.A., Counselling Assistant            
Dr. Jochen O. Ley
Deputy Commissioner
Contact for the International Office of Humboldt-Universität zu Berlin: Dr. Stefan Karsch email: stefan.karsch@hu-berlin.de