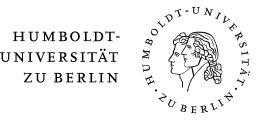 Tips for Beginners
Orientation Week for the Winter Semester 2019/2020: 7 to 11 October
Term Time of the Winter Semester 2019/2020: 14 October to 15 February
Please note that in some instances preparatory courses may start already prior to Orientation Week: hu.berlin/orientierung!
How to get to Humboldt-Universität
What orientation sessions are offered? 
"What must I know when I start studies?"
General Introductory Orientation Session in which new students to Humboldt-Universität are welcomed by the University Counselling Service and given general advice which will help them find their way into their studies.
Monday, 7 October 2019, Adlershof Campus, Grand Lecture Hall 0'115 of the Erwin Schrödinger-Zentrum, Rudower Chaussee 26
from 10 to 12 a.m. for students studying at Campus Mitte/Nord
from 1 to 3 p.m. for students studying at Campus Adlershof
Wednesday, 2 October 2019, from 1 to 2.30 p.m., Campus-Nord, Hessische Straße 1-4, Emil Fischer-Hörsaal
In addition, a whole series of other sessions will be offered, for example on "How to organise my studies" by Compass-Tutor. And, naturally, all new students are invited to the Matriculation Ceremony. A summary of the information will be given on the internet, please see

hu.berlin/orientierung

.
are offered by the faculties, departments and institutes. The dates can be found at the above link. They are also available directly from the faculties, departments and institutes, i.e. on their websites. For students who have decided to embark on a combined study programme (Kombinationsbachelor) we recommend the attendance of the orientation sessions offered for either course. In case of time overlap the orientation session of the core subject should be given priority.
In order to be well prepared please use the information material given below. In the sessions themselves students will then have the opportunity to ask questions. The following topics will be dealt with:
Which lectures and seminars must be attended in the first semester?
How to draw up your personal timetable efficiently?
In which way will modular exams have to be taken?
How will students benefit best from programme modules offering training in specific career-related studies?
What are the chances to improve my command of German or other languages at university?
Some departments or institutes offer preliminary courses, e.g. a bridge programme in mathematics, or preliminary languages courses. Moreover, there will be occasions where departments and institutes will present themselves to the new students. The student representation will welcome the new students, etc.
If you missed the orientation session for your course, please use the information material given below to prepare your time table. You can approach your Course Advisors (Studienfachberatung) if further questions should come up.
What information materials do I need?
Study and exam regulations for your study programme (Studien- und Prüfungsordnungen), available from faculties, departments or institutes. Those already published in the Amtliches Mitteilungsblatt der Humboldt-Universität can be downloaded from the internet.
Who can help me?
Information gathered in orientation sessions will usually have to be sorted out later and priorities must be identified. For example, lectures or classes a student wants to attend may overlap. For this and other problems the following services are available:
The Course Advisors (Studienfachberatung) can help in matters related to a particular course as well as with planning lectures and classes in the first semester.  Addresses, telephone numbers and office hours can be found also in the relevant course catalogues of the faculties, departments and institutes.
Advice of fellow students (studentische Studienberatung) can be helpful as well. Most faculties, departments and institutes offer subject-related peer counselling, or the Fachschaft (student representation) will help you.
The Service for teacher training students of the Professional School of Education offers advice on specific questions of teacher training.
The Career Center provides counselling on practice-related courses.
If support is needed because of disability or chronical illness, advice will be given by the Disability Advisory Service.
Tips and support for parent students (child care) provides the Family Support Centre.
For social counselling the contact is www.refrat.de/beratung.html.
If attendance of language courses is sought the Language Centre offers plenty of courses, and if you wish to register with the University Library, just click at www.ub.hu-berlin.de/en. If you want to make music in the company of other students, you will be helped at www.musikundmedien.hu-berlin.de/umd/, and if you want to go in for sports, www.zeh.hu-berlin.de/ is a useful link.
The Studierendenwerk Berlin is to help students to study successfully by providing services in the fields of study grants and loans (BAFöG), accommodation and childcare, canteens and cafeterias.
Version: August, 2019