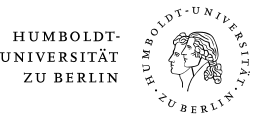 Further Services and Contact Persons
The  Compass Hotline of Humboldt-Universität
The "Compass" hotline will answer general questions about the university, the application procedure and the courses offered at Humboldt-Universität zu Berlin. More complex enquiries will be transferred to the institutions concerned.
---
Student Service Center (SSC)
The Student Service Center (SSC) is located in the main building of Humboldt-Universität. It provides one-stop services for students and applicants.
---
Initial Counselling for International Applicants (except students on exchange programmes)
On the basis of their secondary school leaving certificates international applicants for university studies are welcome to gather preliminary information (Erstberatung) on course options, entrance requirements and the application procedure at Humboldt-Universität zu Berlin. The regulation does, however, not include students coming to Humboldt on exchange programmes. The advisory service is offered in German and in English.
---
Charité - Universitätsmedizin Berlin
For information on all medical courses please refer directly to Charité - Universitätsmedizin Berlin, Referat Studienangelegenheiten.
---
Teacher Training Service Centre
practical training placements, certification of practical work,
recognition of other practical experience of teaching at school within the framework of courses leading to the State Examination.
---
Career Center
The Career Center offers courses leading to additional and key qualifications of professional relevance.
---
Postgraduate Education
The Postgraduate Education Service offers information on study programmes after graduation and the continuing education programmes run by the
faculties and institutes
.
---
Studying Abroad
The International Office of Humboldt-Universität runs an advisory service on studies abroad, on the eligibility for grants or scholarships while studying abroad, on partner universities and practical placements abroad, on EU mobility, etc.
---
Language Center 
The Language Center offers the opportunity for Humboldt students of all faculties to learn a foreign language or to develop their foreign language skills. The Center provides courses leading to various types of examination including a number of standardized examinations required for studies abroad. Applicants must register and pay a moderate fee.
---
Counselling for Disabled and Chronically Ill Applicants and Students
Disabled Students with their specific problems, e.g. constructional obstacles, applying for specific aids, disability bonuses in exams, are requested to approach the Commissioner for the disabled and chronically ill students.
---
Student Social Counselling Service
The Studentische Sozialberatung counselling service offers help, information and counselling
on:
 maintenance and student loans (BAföG),
 preliminary counselling on labour law issues,
 problems of international students,
 problems of students with children,
 problems of disabled or chronically ill students
stress counselling.
---
Student Parliament
The Student Parliament is the elected Student Assembly within the framework of Student Self-Administration. Its terms of reference are based on §18 of the Berliner Hochschulgesetz (Berlin Higher Education Act). Cf. also: ReferentInnenrat (AStA)
---
Studierendenwerk Berlin (Student Services)
Amt für Ausbildungsförderung (Office for Support in Education) provides information on study allowances, offers application forms, information leaflets, etc.
Applications for accommodation in halls of residence in the eastern part of Berlin must be made directly at the halls, where rooms are provided as well.
Psychological and psychotherapeutic counselling services
Counselling service for disabled students
---
Hochschulteam (University Team of the Berlin-Mitte Job Centre) at SSC (Berlin-Mitte) and Berlin Adlershof
The "Hochschulteam" of the Berlin-Mitte Job Centre based at Berlin-Adlershof advises on career prospects and alternative careers for persons who did not complete their studies, provides information on retraining programmes, and gives support to graduates in finding suitable employment for up to one year after completing their studies. List of courses/events (in German).
---
Zeugnisanerkennungsstelle (Certificate Recognition Office)
The Zeugnisanerkennungsstelle is responsible for assessing German and international educational certificates.
---
Distance Studies
The FernUniversität ("Open University") in Hagen runs a Regional Center in Berlin. It offers information, advice and counselling concerning distance studies at the FernUniversität in Hagen.