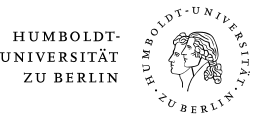 Student Services
With effect of 3 July 2020 the Humboldt-Universität zu Berlin has changed into the so-called limited presence mode. Therefor all public office hours are cancelled until further notice. You can reach us by e-mail via our online contact form https://hu.berlin/contact and by phone at +4930 2093-70333. Please assume that answers can be delayed and that we cannot provide full telephone service. We hope to be available for you again soon. Updates about our possible presence mode will be published via https://hu.berlin/corona.
Link to the website from the Admission Office for International Students including office hours.
Link to the website from the Enrolment Office including office hours.
Forms
Information